Tag Archives:
SBS Pop Asia
credit: sbspopasia
shared by; sharingyoochun.net
JYJ Fan Talk Source: sharingyoochun.net
Share This
credit: jyj cosirae+sbspopasia
JYJ Fantalk Source: sharingyoochun.net+youtube
Share This
[Trans] 130717 JYJ Appear On Australian Public TV, "Talking About What We've Been Doing, And The World Tour"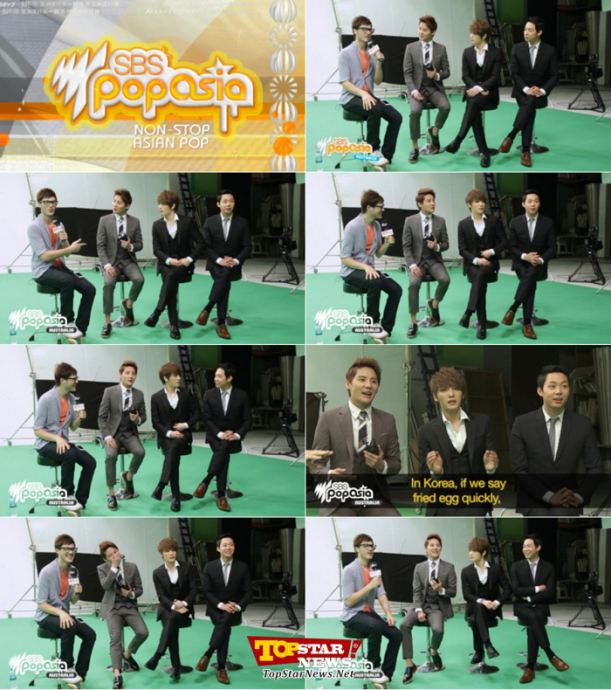 JYJ appeared on an Australian public TV show and gave an official greeting to their fans down under.
According to C-JeS Entertainment, JYJ appeared on the Australian public TV program 'SBS Pop Asia'.
Australia's SBS (Special Broadcasting Service) is a government-funded program that is aired in all corners of the country and is viewed by 8 million people, 40% of the entire population of Australia.
'SBS Pop Asia' is Australia's biggest Asian-pop program that has recorded a high viewership since it began airing in 2011.
A representative of the program stated, "We introduce singers from all over Asia for an hour every Saturday and Sunday, and we've been receiving a lot of requests for JYJ for a long time. Therefore, we decided to fly to Korea to interview them."
JYJ will appear in the episode of 'SBS Pop Asia' that will air on the 21st to greet their Australian fans and talk about what they've been up to, as well as the things they experienced during their world tour.
Specific information can be found on the 'SBS Pop Asia' homepage (http://www.sbs.com.au/popasia) and their YouTube channel (http://youtu.be/MqnDq4W8LGQ) as well.
Source: [topstarnews]
Translated & Shared by: dongbangdata.net
JYJFantalk Source: dongbangdata.net
Share This