[News] TVXQ Tickles Fans with Singlish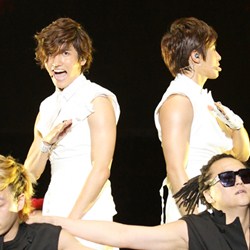 The Korean boy band was in town for an upclose and personal fan party yesterday.
Dubbed the 'Kings of Hallyu', Korean boy band TVXQ returned to the music scene with the album Why? (Keep Your Head Down) in January this year. Following their highly successful comeback, the group held their first overseas fan party in Beijing, China back in August.
TVXQ debuted as a five-member group, consisting of leader Yunho, Jaejoong, Yoochun, Junsu and Changmin. In 2009, three members — Jaejoong, Yoochun and Junsu — filed an injunction suit against their former company, forming the group JYJ. The trio was last seen in town for a showcase in October last year.
The two-member TVXQ arrived on our shores for the first time yesterday, performing to an audience of 4,500 fans at the Singapore Indoor Stadium.
For the first 10 minutes of the fan party, concert-goers were entertained by the group's music video for the song 'Before U Go'. Fans screamed and shouted enthusiastically, whenever the members appeared on screen, as if assuring TVXQ, who were backstage.
Consisting of members Yunho and Changmin, TVXQ exploded on stage, bringing the house down with their first song of the night, 'Maximum'. Deck in matching white costumes, the pair sang and danced to a sea of red light sticks (red being the group's official colour).
After the first song, Yunho and Changmin took turns to greet the audience, both expressing their delight and excitement to be performing for the first time in Singapore and hoped that "fans would enjoy each of our performances".
Fans also got to know the duo a little bit more during the Q&A session, but it was Yunho and Changmin's apt use of Singlish, which had the fans doubled over in laughter.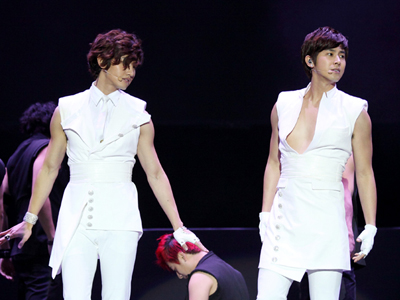 When asked if they knew about Singlish, Changmin answered that he had learnt a few words from the local staff, before proceeding to show his "fluency".
"No problem … la?" the 23-year-old tried.
Fans chortled in response, with a few nodding their heads in approval.
Not one to be outdone, Yunho said, "Chilli crab shiok!"
Later, five lucky fans each got the chance to ask TVXQ a question personally. Two well-made fan videos, which left some people in tears, were also chosen to be aired during the fan party.
Upon viewing the videos, Changmin said, "Thank you for the videos. I'm impressed by the amount of effort they put in. They give us the energy to put on our best performances."
Yunho added that he was very "touched by their effort and love" and even though they have tough times, this "love [from fans] keeps us going and gives us support to do our utmost best".
These two winners were rewarded with a TVXQ poster each. Yunho signed with a personal 'God Bless You' message, while Changmin wrote 'Thank You'.
It might have been a short two-hour fan party, but it was evident that TVXQ was thankful for their fans, some who have waited for as long as seven years.
Not only did the group thank the fans profusely for their "love, passion and support", they also showed their appreciation in the most practical way.
For any Cassiopeia (name of TVXQ's official fanclub), the best part of the fan party was definitely to hear the pair perform 'live' in their top-notch condition. TVXQ proved their reign as 'Kings of Hallyu' by putting up a perfect performance. The duo's singing was not compromised, despite the amount of dancing they had to do.
xinmsn is proud to be the official online media of TVXQ! Asia Fan Party 2011 in Singapore.
Videos:
TVXQ arrives in Singapore!
TVXQ finds Singapore absolutely beautiful
Text: Joelle Chong
Photos: SM Entertainment
Shared by: sharingyoochun.net
Momma's Source: sharingyoochun.net
Share This