[Trans] 110715 TVXQ Rocked The Stage At "K-POP FESTIVAL -MUSIC BANK in TOKYO"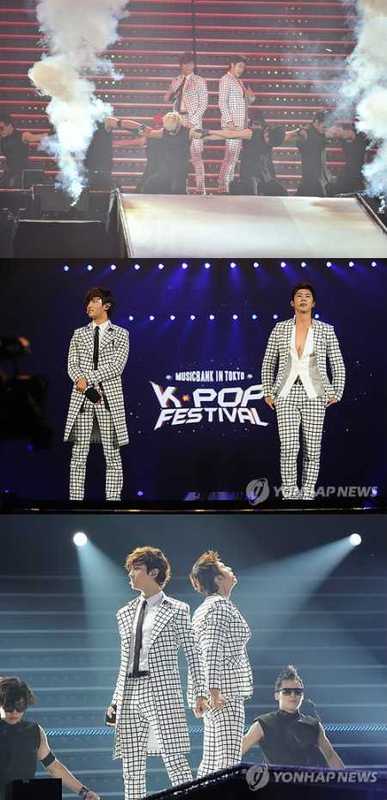 "K-POP FESTIVAL -MUSIC BANK in TOKYO" was held at the Tokyo Dome on the 13th this month. There were 15 groups of Korean artistes that performed at this concert, including TVXQ, Kara, Girls Generation, attracting a total of 45000 fans. This concert was organised by KBS's "Music Bank" programme in Japan.
15 artiste groups, including popular artistes like TVXQ, Kara, 2pm and Beast rocked the stage during the 3 hour concert. The atmosphere was pushed to the climax when TVXQ took the finale stage. They performed 3 songs, including "Rising Sun". Yunho could not hide his happiness for being able to perform on Tokyo Dome once again since 2 years ago. He shouted, " It's been a long time, Tokyo Dome! I'm really happy to be able to meet everyone here with the other artistes!", causing the atmosphere to reach the climax.
The concert will be broadcasted in 2D on 25 August, 6pm through "Skyper", and in 3D on 28 August, 1pm. For more details, please visit http://www.skyperfectv.co.jp/. This concert will also be broadcasted in Korea via KBS on July 22nd at 6:05pm.
Source: [baidutvxq]
Translation credits: smallricee@tohosomnia.net
Shared by: tohosomnia.net
Do not remove/add on any credits
Momma's Source: sharingyoochun.net
Changmin. Rest that wrist as much as possible. You and Yunho need some serious R&R. <3