[Vid] 111031 Eunhyuk Mentions Junsu on Come To Play
credit: jooannee
Momma's Source: sharingyoochun.net
Share This
[News] 111101 Suju Eunhyuk "Promise With Childhood Friend Kim Junsu To Never Smoke And Drink"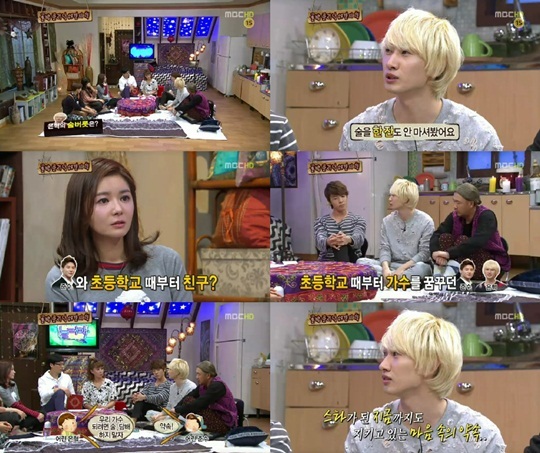 A fact about Super Junior Eunhyuk and JYJ Junsu's friendship since primary school has been revealed.
On the special episode of the MBC variety programme "Come to Play" that aired on 31 October, Eunhyuk began his talk by stating "I don't drink even a glass of alcohol."
On that day, in reply to Yoo Jaesuk's questions of "What is Eunhyuk's capacity for alcohol? What are your drinking habits?", Eunhyuk replied that he doesn't even "drink a single glass of alcohol". He also continued to say that he has been "friends with Kim Junsu since primary school" and their "dream of being singers was formed together since childhood".
At that time, both of them made a promise. He explained his reasons for not drinking or smoking and said he was keeping the promise they willingly made then when they said "Let's never drink or smoke." Even though both of them are stars now, they are still keeping that promise that they made.
Source: [tvdaily + ilove5stars]
Translation credits: mandasoh@tohosomnia.net
Shared by: tohosomnia.net
Do not remove/add on any credits
Momma's Source: sharingyoochun.net
Share This