TRANS] 111019 'Kim Junsu And Yoon Du Jun Are The Star Players', FC MEN Wins The Celebrity Soccer Tournament
FC MEN, captained by JYJ's Kim Junsu, has won the celebrity soccer tournament Peace Star Cup.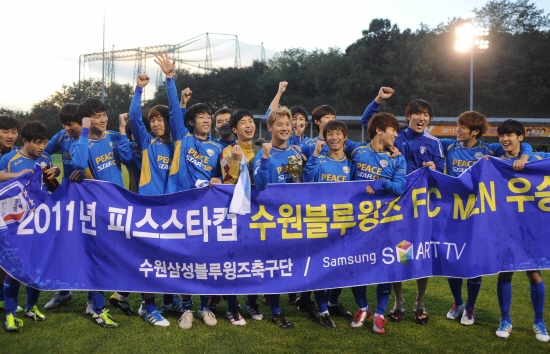 In the finals match between FC MEN and Miracle FC (captained by Kim Yong Man) on the 19th at the Suwon World Cup Stadium, FC MEN turned the tables around in their favor and won the match 4:3.
FC MEN sent their best players, including JYJ's Kim Junsu, B2ST's Yoon Du Jun and Lee Gi Kwang, and Park Sung Kwang, on the soccer field and received loud cheers as they played like professionals.
In the tournament for the first half of the year, FC MEN and FC Libero (captained by Seo Gyeong Seok) were locked in a fierce battle in the finals. In this match, Kim Junsu and Yoon Gyeong Sik were the star players as they scored four goals, clinching the victory for their team. B2ST's Yoon Du Jun's performance earned him the 'Suwon Bluewings FC MEN, Man of the year' title from his fellow teammates and the Samsung Bluewings team.
Meanwhile, FC MEN officially became a part of Suwon Samsung Bluewings this April and features Suwon Samsung's key player Jung Sung Ryong as its honorary coach. The team features 12 popular stars such as JYJ's Kim Junsu, Kim Hyun Joong, B2ST's Lee Gi Kwang and Yoon Du Jun, Lee Wan and Seo Ji Seok.
Source: [star news mk]
Translated & Shared by: dongbangdata.net
Momma's Source:dongbangdata.net
Share This