[NEWS] Led by SNSD and TVXQ, SM's Market Capitalization Is Reaching $1 Trillion Won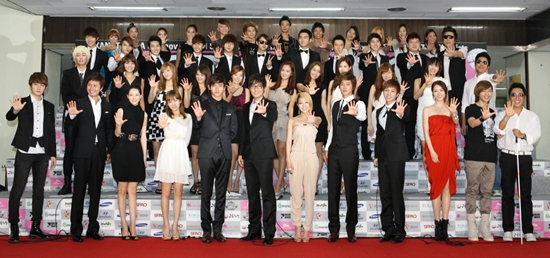 On November 22, SM's share prices recorded an all-time high of 60,100 won. Using this day's share prices as a gauge, SM's market capitalization has reached $995.9 billion won, with the $1 trillion mark right before its eyes. To make up $1 trillion won, the share prices would have to reach 60,350 won, so there was only 250 won remaining. Recently, stocks related to the music industry have skyrocketed in value, with the current market capitalization of SM being able to easily pass the $1 trillion won mark on November 23.
In 2011 alone, SM's share prices have skyrocketed by 220%. In early August last year, the share prices were languishing at around 20,000 won, but in the middle of August this year, the share prices have surpassed the 30,000 won mark. In September and October, the share prices recorded 40,000 won and 50,000 won respectively. Further, on November 22, the upper ceiling price broke the record by surpassing 60,000 won, resulting in a situation where the market capitalization is nearing $1 trillion won right before our eyes.
Source: newsen
Translated by: CTVXQstaff_mug_ping @ ContinueTVXQ.com
Distributed by: CTVXQstaff_mug_ping @ ContinueTVXQ.com
Please Keep All Credits Intact, thanks.
[Our Source: iLoveTVXQ5.wordpress.com]
Momma's Source: dbskalways.wordpress.com
Share This