[TRANS] 130227 JYJ Talk About What Happened 4 Years Ago For The First Time, "We Couldn't Do Anything"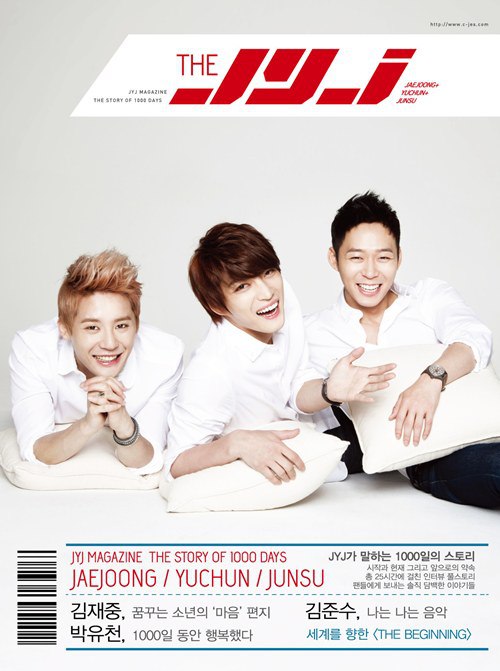 JYJ (Kim Jaejoong, Park Yoochun, Kim Junsu) recently confessed how hard it was for them after leaving TVXQ.
The members talked about the things they had kept locked in their hearts for the past 1000 days in the magazine 'The JYJ THE STORY OF 1000 DAYS'.
Regarding their decision to leave TVXQ in 2009, JYJ explained, 'At the time, some people in the industry and the public made speculations about us and attacked us. But we couldn't do anything but stay silent. The flood of criticism and the ridiculous rumors ripped us apart. But we didn't respond to them. That was because we knew that reacting would be nothing but 'Spitting on our own faces' in this situation."
Park Yoochun said, "I'm sure that SM Entertainment, our agency at that time, were hurt too, but when I look back on what happened, I think we were hurt more by the whole thing. There were times when I thought, 'What's the use of saying things that will do nothing but hurt each other'. Though there were a lot of rumors surrounding us, we kept it locked in our hearts and repeated to ourselves, 'This too shall pass.' I felt like when time had passed, people and the world would come to see what the truth was."
Kim Junsu said, "Chang Joo (CEO of C-JeS Entertainment) told us that things would get worse if we responded to every little thing, so we held back on everything. Though it was a very trying time for us, we could do nothing but hold back.."
Kim Jaejoong said, "We knew that this was a fight that we could possibly lose, but we hoped that people would understand our truth when time had passed. At the time, we had no one to speak for us, and we could do nothing but silently stand our ground. Because speaking up would lead to misunderstandings. We couldn't express ourselves because even denying things would make us look like cowards."
Meanwhile, Kim Jaejoong released the repackage album of his rock album on the 26th that contains two extra compositions, along with the original tracks of his first solo album.
Source: [xsports news]
Translated & Shared by: dongbangdata.net
Momma's Source: dongbangdata.net
Share This