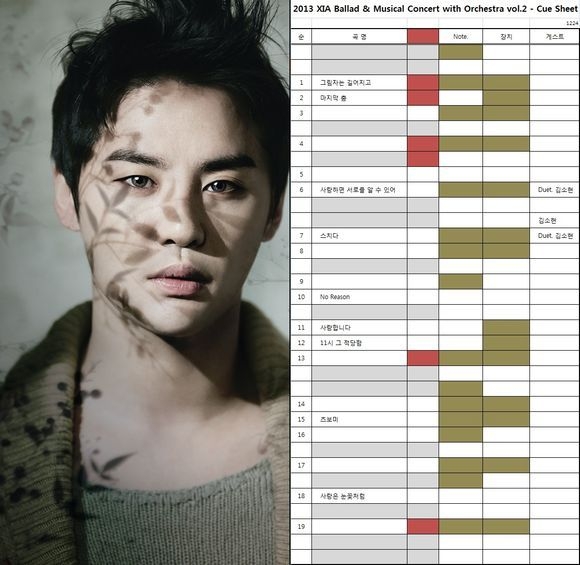 JYJ member Junsu revealed the cue sheet for his upcoming end of the year concert.
On December 26th, Junsu's agency C-JeS Entertainment revealed a portion of Junsu's concert cue sheet on JYJ's official Facebook.
Entertainment stated, "This concert will be a live performance with an orchestra, and Junsu plans on singing a total of 18 songs. He will be singing some of his own songs from this year's musicals 'Elizabeth' and 'December,' as well as other actor's numbers as well. Fans are greatly looking forward to seeing Junsu sing these songs live."
The revealed cue sheet contains the main song of 'Elizabeth,' as well as songs from Junsu's 2nd solo album. Not only that, he will be singing MBC drama "Empress Gi" OST "I Love You" and KBS 2TV drama "The Innocent Man" OST "Love Is Like Snow."
A C-JeS rep stated, "Just like last year's concert, this year's lineup includes songs by other artists as well. Especially since this year is JYJ's 10 year anniversary, Junsu chose songs that can send special messages to his fans."
Junsu's concert '2013 Xia Ballad & Musical Concert with Orchestra Vol. 2′ will be held on December 30th and 31st at the Jamsil Gymnasium in Seoul.
credit: kpopstarz
JYJ Fantalk Source: sharingyoochun.net
Share This