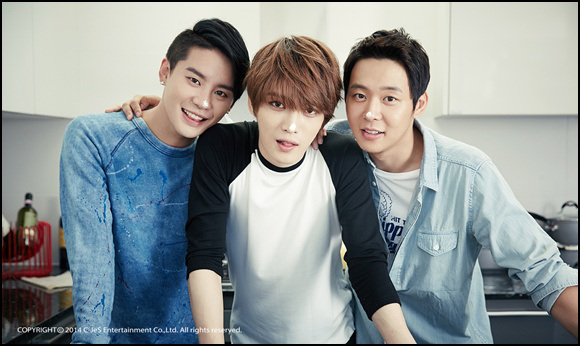 JYJ (Jaejoong, Yoochun, Junsu) have teamed up with famous photographers to release the third edition of their 'THE JYJ' magazine.
C-JeS Entertainment stated, "In February, the third edition of 'THE JYJ' will be released in Korea and Japan simultaneously," and "Kim Jaejoong, Park Yoochun and Kim Junsu have each teamed up with a famous photographer to create a special collaboration project for their upcoming album."
They continued to state, "We've decided to release a magazine for each member in order to capture each member's solo activities of movies, concerts and tours. The members teamed up with photographers Cho Sun Hee, Mok Najung and Kim Young Joon, and shared many stories with them to capture their natural selves in the photos."
JYJ said, "We took our time to converse with our photographers to prepare for our photoshoots, so we were able to let ourselves go during the process. This is the first time that we've enjoyed taking photos like this. It felt like we were creating physical proof of our twenties that we could look back on later. Some of the pictures surprised us because they showed sides of us we'd never seen before."
The upcoming edition will feature special photo spread locations. Kim Jaejoong's photographer followed him on the Japanese leg of his tour, while Park Yoochun's photographer followed him around Busan while he filmed 'Sea Fog'. Kim Junsu took many of his photos during his musical 'December'."
'THE JYJ' has garnered great popularity with its first two editions, the first edition containing 25 hours' worth of interviews and the second edition holding the theme of friendship. The third edition will be released in Korea and Japan, and is available at the C-JeS online store.
Source: [enews24]
Translated & Shared by: dongbangdata.net
JYJ Fantalk Source: sharingyoochun.net
Share This