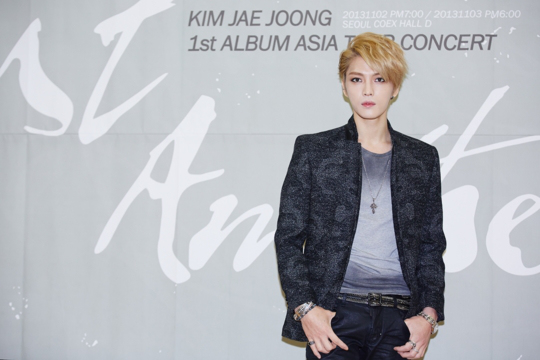 On the 3rd of November, JYJ's Kim Jaejoong held a press conference at a conference room in COEX to commemorate the release of his first full-length album 'WWW: Who, When Why' and the end of the Seoul leg of his Asia tour.
Starting off in Seoul on the 2nd of 3rd of November, Kim Jaejoong is set to perform in Yokohama, Japan on the 15th and 16th, in Taiwan on the 23rd and in Nanjing, China on the 7th of December. The Seoul concerts attracted 14,000 fans across two days and were sold out in just 15 minutes. The concert features tracks from his 'WWW' album, as well as other songs that Kim Jaejoong likes singing, such as 'Glamorous Sky' and 'Ultra Soul'. Kim Jaejoong will also be singing 'Makeup' in Korean, which he himself translated from Japanese.
Kim Jaejoong looked calm yet excited, having already performed the night before at the same venue. The singer said, "This is my first full-length solo album, so everything feels new and I feel great about it. This album has a very strong rock influence infused throughout the whole album. But it's not just about rock; I've incorporated other genres such as pop, punk and hard rock with melodies that are easy to follow to bring more variety to the album."
Regarding his first concert, Kim Jaejoong said, "I worked really hard for this concert. It's great that I'll be able to make it an exciting concert with a live band. I saw the audience bobbing their heads to the beat and jumping along to the music. I was joined by Moon Myung Jin and Kim Beom Soo yesterday. Today, I'll be joined by Lee Sang Gon and Gummy. It was great to see the audience cheering loudly for the guest singers as well. I believe that the guest singers have helped take my concert up another notch."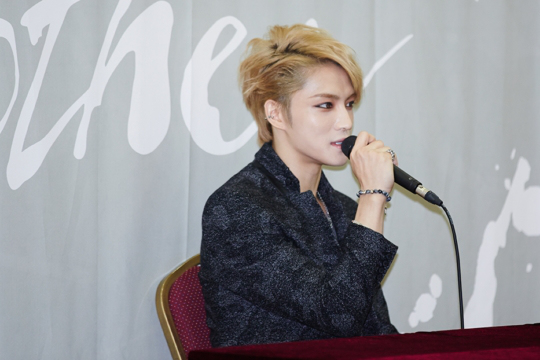 Here is a Q&A session we had with Kim Jaejoong.
-The name of your first full-length album is 'WWW'.
"Naming the album was a decision I made with our album management team. We talked about creating a story that connects all the tracks from the first one to the last one. In this process, someone came up with the theme of 'love', something that anyone can easily experience and understand, and that's when we thought of 'Who, When, Why'. In love, you need a person to give your love to, a place to meet that person, and a reason why you loved that person. I believe these three things are important when it comes to love. I've incorporated these three things into all thirteen tracks. There are some songs that beat around the bush, and some that are more direct in addressing these three components."
-The response you've received for 'WWW' from all around the world has been mostly positive.
"I was so surprised to see such love from countries that I'd never heard about before. I think it's probably because rock is a genre that anyone can enjoy, no matter where they're from. I think some people gave my album a listen, even if they didn't know who I am, because of this."
-Love is the main emotion of your music in this album.
"Isn't love one of the emotions that are most often expressed in music?"
-Are there any differences in the concert you held yesterday and the one you're holding today?
"In terms of stage management, nothing has changed. I guess the only differences are the guest singers who are coming today? But since this is my last performance in Seoul, I won't hold back and keep going without worrying about my throat or body. I'll make it a passionate performance."
-Your dress code of innocence and impurity is quite unique.
"To be honest, there's no right answer to the dress code of innocence and impurity. Each person's beliefs and mindset will make their interpretations different. Even if you come dressed in your regular attire, it might look different to others based on their point of view. There's a moment in the concert where I step back and take a look at the audience's attire and makeup. It's not something I do just for my own sake; it's a time for the audience to take a good look at each other. I think I'll probably set a dress code for all the upcoming concerts as well."
-Did anything happen while you were preparing for your concert?
"I used to hold two or three rehearsals every day in the past, but I couldn't do more than two a day this time around. I tried to hold back because I didn't want to hurt myself or damage my vocal chords during rehearsals."
-It's been 10 years since you made your debut.
"I'm in my tenth year (of becoming a singer) and our 10th anniversary is coming up. I've taken on a lot of challenges during these ten years, and I tried so hard to finish everything I started. But all of a sudden, I've begun to feel like 'returning'. There's something I want to accomplish that I can only do by going back to how I felt during that whole process. I want to go back to the starting line again. I've got a new goal."
-What do you mean by that?
"I guess you could call it going back to how I felt when I first began. I've fallen into the dilemma of 'What should I do from now on,' and 'What else do I have left to develop,' now that ten years have passed. I need something to stimulate me. I feel most concerned when I can't feel any growing pains. I want to feel the need to continue to grow and fulfill the anticipation of others."
-What was your proudest moment in the last ten years?
"Right now? When I released my first full-length solo album. A lot of people expressed their concern and support for me. I was conflicted on whether I should release a rock album. But I'm glad to see that so many people have responded positively to it. Even people who aren't my fans are giving my music a listen. I'm really proud of that."
Source: [wowtv]
Translated & Shared by: dongbangdata.net
JYJ Fantalk Source: dongbangdata.net
Share This