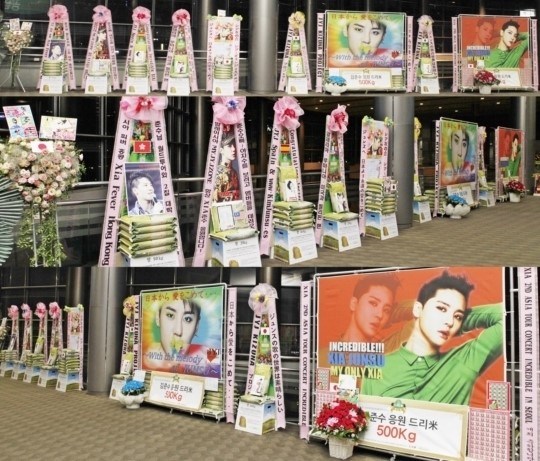 Rice wreaths made an appearance at Kim Junsu (XIA)'s concert.
Fans from Japan, Malaysia, the Philippines, Hong Kong, the US, SPain, Algeria and Romania sent 1.25 tons of Dreame rice wreaths to Kim Junsu's 'XIA 2ND ASIA TOUR CONCERT INCREDIBLE in SEOUL' concerts on the 3rd and 4th of August. This rice will be donated to those in need and will be distributed to areas of Kim Junsu's choice.
Starting at JYJ's showcase and concert in 2010, Kim Junsu's fans have been donated Dreame rice wreaths at every concert and fanmeet, and donated 1.3 tons and 790 kgs to the musicals' Tears of Heaven' (February 2011) and 'Mozart!' (May 2011) respectively.
Kim Junsu's role in Elisabeth last February was met with 2.68 tons of rice wreaths and 270 briquettes as well. 2.11 tons were donated to Kim Junsu's May concert last year, 700 kgs of rice and 100 mango trees to his Jeju fanmeet last September, 200kgs to his appearance at the Korea Musical Awards last October, and 910 kgs of rice, 6,000 eggs and 2,000 briquettes were donated to his December concert last year.
Kim Junsu has been donating these sacks of rice, briquettes and eggs to various organizations such as the Seoul Dongmun Center for the Disabled, the Southern Hope Care Center, the Korean Silverlight Hope Church, Goyang-si's Better Life Sports Association, the Briquettes of Love Movement and the National Food Bank.
Source: [wowtv]
Translated & Shared by: dongbangdata.net
Momma's Source; dongbangdata.net
Share This