[TRANS] 130213 Tohoshinki's "Catch Me" Certified "Gold" By The Recording Industry Association Of Japan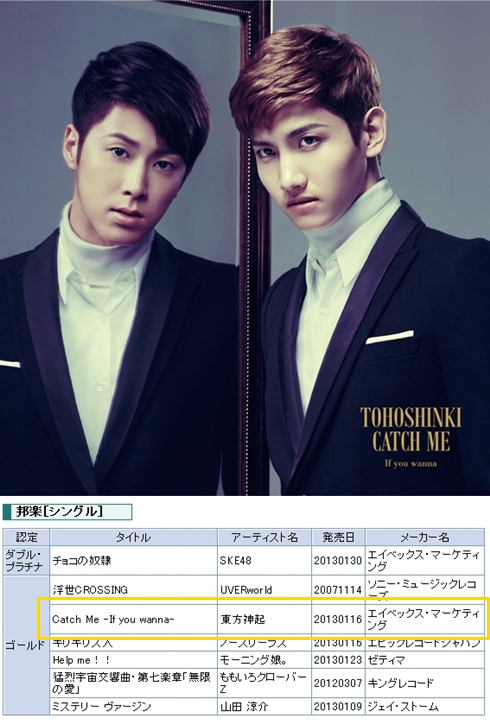 Male duo unit Tohoshinki received a "gold disk" certification in Japan.
On 10 Feb, the Recording Industry Association of Japan (RIAJ) announced the accredited albums and singles in an announcement titled "Gold Disks in January". A "gold" certification is given to albums/singles which accumulate sales of more than 100,000 copies. Tohoshinki's new single "Catch Me – if you wanna-", which was released in Japan on 16 Jan, received a "gold" certification.
This single recorded sales of 84,666 copies within a day, and attained 1st place on the daily charts, and of course the weekly charts. This (allowed Tohoshinki) to set the new record of being the first foreign artistes to have 12 singles rank 1st on the Oricon weekly charts, proving their extreme popularity once again.
Tohoshinki will be releasing their new Japanese album "Time" on 6 March, and subsequently begin their tour of the 5 biggest domes in Japan – Tokyo Dome, Osaka Kyocera Dome, Fukuoka Yahoo Japan Dome, Sapporo Dome and Nagoya Dome – beginning with a concert at the Saitama Super Arena on 27 April.
Meanwhile, Tohoshinki are focusing on their individual activities. Uknow Yunho is acting in the SBS Monday-Tuesday drama "Queen of Ambition", while Changmin is appearing in KBS2′s variety programme "Moonlight Prince".
Source: [enews24 via Nate + TVXQCB@weibo]
Translated & Shared by: dongbangdata.net
Momma's Source: dongbangdata.net
Share This