[NEWS] 121122 JYJ, Is There Anything You Can't Do?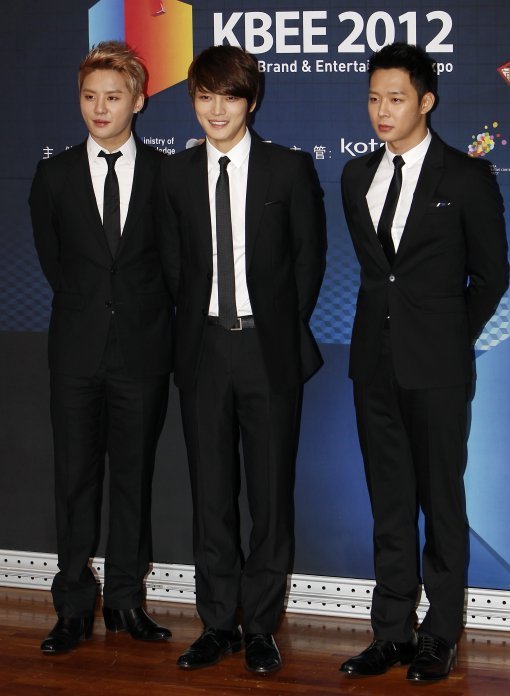 The group JYJ is drawing public attention with omnidirectional activities including not only films and dramas but also world tour concerts.
The members of JYJ – Jaejoong Kim, Yuchun Park and Junsu Kim are showing off their talents as each of them is doing film, drama and world tour at the same time. Not like other groups who normally start members' individual activities after group activities finished, all of JYJ members are standing out in each own field at the same time.
The most noticeable member is Jaejoong Kim. Currently he is meeting audience with his screen debut film 'Code Name: Jackal' and played a comic role which he has not done before, as a topstar who is kidnapped in the film. It seems that he became more familiar to the public after breaking from former serious characters he played in 'Dr. Jin' and 'Protect the Boss'.
Yuchun Park is challenging melodramatic performance in 'I Miss You', MBC WED/THU primetime drama currently being aired. He has been appearing since NOV 21 after the youth parts finished and showed performance as a  police detective who has wounds of the first love in youth. 'I Miss You is his first serious melodrama as he used to work for romantic comedies in the past. His new challenge is highly expected as he has been recognised well among actors from background of singers.
While Jaejoong Kim and Yuchun Park are leaving music career at the moment, Junsu Kim is taking over the role of a singer instead. The award winning star is due to have a solo concert in Oberhausen, Germany on Nov 30. He is the first Asian singer performing in Oberhausen.
He released a solo album 'Tarantallegra' in May and toured successfully in Thailand, Taiwan, China, U.S.A. and Mexico. The tour in Germany is his final stage of the world tours of 8 months.
Source: Donga via Nate
Translated by: dedicatee.wordpress.com
Shared by: JYJ3
Re-up by: iXiahCassie
Momma's Source: iXiahcassie
Share This