[Trans] 111206 They Are Indeed Brothers, Even The Passion For Acting Is Similar‏
"My acting is better than hyung, right? (laughs)" (Park Yoohwan)
"Yoohwan's acting is more natural than me. But his portrayal for emotional scenes are still far on par to mine. Haha!" (Park Yoochun)
New actor Park Yoohwan debuted just 9 months ago with "Shiny Shining Shining", is currently acting in drama "A Thousand Days' Promise" as the younger brother of the female lead who is suffering from senile dementia. Park Yoohwan is the younger brother of JYJ member Park Yoochun and Park Yoochun previously acted in "Sungkyunkwan Scandal". On the afternoon of 29th last month, the reporter interviewed Park Yoohwan at SBS drama centre in Gyeonggi-do and through a phone interview with Park Yoochun who was in Hawaii for a photo shoot.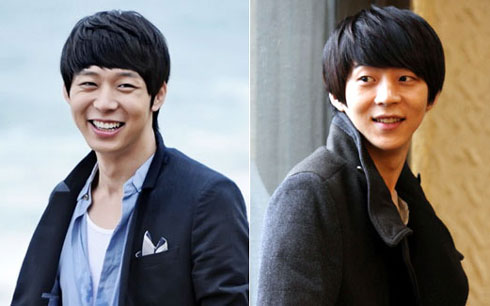 The actor brothers with many similarities Park Yoochun and Park Yoohwan. Younger brother Yoohwan: "We have been busy recently and didn't have the time to meet.", and expressed his wish to act in the same project with his brother.
Yoohwan said, "Hyung is like a father to me", and Yoochun said, "My brother is worth to be praised, I'm proud of him." There is a reason for such a deep relationship between the brothers. They migrated to America in 1998 but the brothers suffered after facing financial difficulties and their parents' divorce. Especially when Yoochun returned to Korea for his singer dream, the younger brother Yoohwan who has always been dependent on his hyung, starts to feel the uneasiness.
Yoohwan said, "I couldn't understand why I had to go through all these issues. And bore grudges towards my hyung who left me. There was nothing I wanted to do and had no confidence to do anything. As I starts to have the thinking of 'what's the use of studies?', I withdrew from school. I was a high schooler then."
However there was a dramatic change to Yoohwan. One day, Yoohwan followed his hyung to acting classes in preparation for "Sungkyunkwan Scandal" and end up falling for it. Yoohwan said, "I found myself through acting. For the first time in life, I had my own dream." Yoochun said, "Acting transformed Yoohwan from someone leading a dull life with no desire into a very lively person. I used to get rejections from him when I ask him to join me for drinks but now he would initiate to ask me out for a drink." Yoohwan's portrayal in "A Thousand Days' Promise" gained compliments where he was grabbing his older sister who was rejecting treatments while crying out loud and when he endured the sadness and teared while taking care of his sister. Yoohwan then revealed the source for this extraordinary emotional scene, "It was the painful memory when I was young. When hyung came back to America for a temporary visit, I looked at hyung who was sound asleep and upon thinking that we are going to be separated again, I felt so sad and tears just fell uncontrollably. Upon thinking of that situation, I can still feel the sadness somewhere deep within me." He continued, "The love for noona in the drama is very similar to the love for hyung. During the emotion scenes, I imagined if hyung is the one suffering from senile dementia."
When reading the scripts, Yoohwan would ask scriptwriter Kim Soo Hyun for advices on acting and take notes of it. In order to perfect his enunciation, he would read out loud for 30 minutes daily. Older brother adored and worried for such a younger brother. Yoochun said, "He would stay up through the night to research on the character. I would advice him frequently that currently it is still the beginning phase, must have confidence (with yourself) and don't work over painstakingly. But he still overworked himself. Luckily he worked hard in training his body and took good care of his own health."
Yoohwan recently has been reading actor Michael Caine's "Acting in Film: An Actor's Take on Movie Making". He said, "A quote from the book that left me an impression is, 'If you have any other plans besides performing, then give up performing right now.' I don't know anything else other than performing, thus I won't give this up." (T/N: In this case, 'performing' refers to acting; a form of performing arts.) Yoochun said, "When I started my activities (as a singer) then, I was bearing the responsibility for my family's livelihood but I hoped that Yoohwan can break away from the duty of money earning and perform freely (as an enjoyment)."
source: chn.chosun
trans by: rachui@sharingyoochun
Momma's Source: sharingyoochun.net
Share This