[Trans] 121113 Renowned Japanese Actor Tsumabuki Satoshi Praises, "Max Changmin Is An Actor With Determination"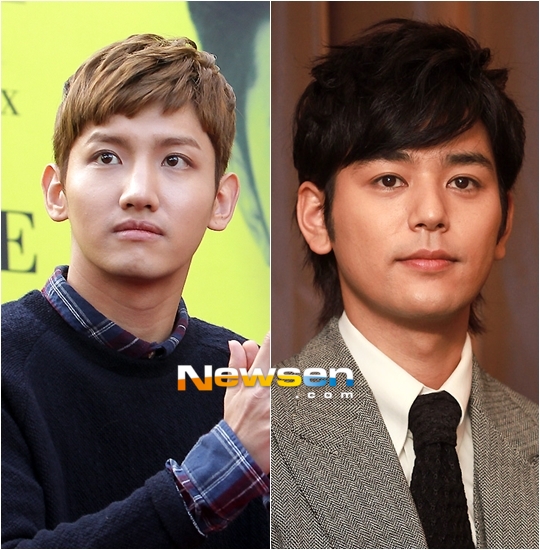 TVXQ Max Changmin is acting as Momo in the Japanese movie 'Fly With The Gold' and it is also his first step as a movie actor. In the movie, Changmin acted alongside renowned actor Tsumabuki Satoshi who have acted in various movies such as 'Tears For You', 'Josee, the Tiger and the Fish', 'Water Boys' and drama 'Lunch no Joou' etc and Tadanobu Asano who acted in hollywood movies 'Thor' and 'Battleship', accumulating his acting experience.
Displaying acting together with Max Changmin, Tsumabuki Satoshi who acted as Koda mentioned in various interviews that, "Changmin is an actor with determination and it became my motivation as well. As Changmin is Momo, I feel that it is very good.", giving his praises for Changmin.
He expressed, "Director Izutsu is well known to be harsh and I think Changmin will be in difficulties. At first though I received a lot of harsh comments too, but I still told Changmin, 'Director tend to be harsh with his words but it was all because he hopes that Changmin can do well. Therefore don't lose to it and do it seriously till the end!" While relaying the situation on the filming set, he said too, "Changmin is really a honest hard worker and hate to lose. I think the director's motivation and Changmin's determination that complement each other." He has great compliments of Changmin who courageously acted in his foreign language.
 As for Tadanobu Asano, he also said, "Changmin is really a great person. It was his first time acting in Japanese movie but he is very hardworking." As he also has experience acting with a foreign language in hollywood movies, he recognized Changmin's effort, "I feel that I learnt a lot from this filming. He really is a great kid and I completely became his fan. If there is anyone who badmouthed Changmin, I would not let him off.", revealing his words of support for Changmin.
It is Max Changmin's first time acting in movie and with Japanese language, he received a lot of compliments and also is nominated for newcomer award in the 37th Hochi Film Award and 36th Japanese Academy Award.
Other than being active as an actor, TVXQ will be having their concert 'TVXQ! LIVE WORLD TOUR 'Catch Me' In SEOUL' on the 17th and 18th November at Seoul Olympic Park Gymnastic Stadium and then embarking on their world tour.
source: Newsen
credit: loveissammi
trans by: rachui@sharingyoochun
Momma's Source: sharingyoochun.net
Share This