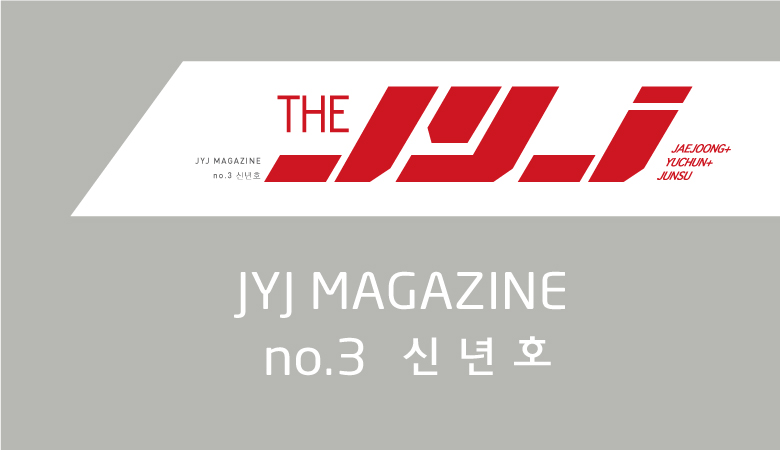 The JYJ Magazine No.3 (The New Year's Issue)
The JYJ Magazine No.3 will be published in the format of solo photo booklets of Jaejoong, Yoochun, and Junsu.
Each magazine will consist the respective member's individual activities during the second half of 2013 until the first half of 2014.
Photo books for each member will have pictures taken by different South Korean professional photographers: Mok Na Jung

(for Kim Jaejoong)

, Cho Sun Hee

(for Park Yoochun)

, and Kim Young Joon

(for Kim Junsu)

.
Format:

Contents
– Kim Jaejoong Issue, Park Yoochun Issue, Kim Junsu Issue (sold separately)
– Full-page pictorial, including:
Kim Jaejoong's performances in Osaka
Park Yoochun 'all-location' filming in Busan
Kim Junsu's behind-the-scenes 'December' Musical practice

Size

: 260 x 370 mm

No. of pages

: 120 pages for each magazine
Reservation period:

January 8 ~ 29, 2014

Release date: shipping is scheduled to commence on February 28, 2014
Price: KRW 33,000 (per magazine)
Misc.: Please note that the physical look for each magazine edition may vary.
Note: pre-order HERE on C-JeS Store homepage (membership login required).
Please also note that JYJ3 is not responsible for any collective purchase orders advertised in the comments section.
Source: C-JeS Store
Translated & Shared by: JYJ3
JYJ Fantalk Source: JYJ3
Share This