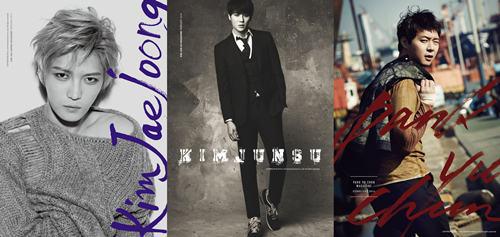 Each member's individual cover for their 'THE JYJ 3rd edition' magazine have been revealed.
C-JeS Entertainment stated, "The covers for the third edition of THE JYJ magazine, which is set to be released in February, have been revealed. The upcoming magazine will feature a collaboration between each member of JYJ and a famous photographer, and will contain each member's thoughts and feelings about their lives."
They also added, "Each member's magazine will be released simultaneously in Korea and Japan, and we have opened up a second round of reservations for the magazine due to the flood of requests we received after the first round. Each magazine will be a photo spread of around 130 pages, and will feature collaborations with Cho Sun Hee, Mok Najung and Kim Young Jun."
The revealed cover pages reflect each member's unique personalities. Kim Jaejoong looks like a carefree musician wearing a loose-fitting knitted sweater, Park Yoochun looks like a wild man enjoying a day at the sea, while Kim Junsu looks like a dandy but striking model.
Kim Jaejoong's magazine will feature photos that reflect his everyday life, while Park Yoochun's will reflect his work as an actor, having been shot in Busan, the location of the star's upcoming movie 'Sea Fog'. Kim Junsu's magazine will contain photos of the star using various props and outfits to create an amazing photo spread.
'THE JYJ' is JYJ's signature interview magazine that has already gained a great deal of popularity for its first edition, which contained 25 hours-worth of interviews, and for its second edition, which focused on the theme of friendship.
Meanwhile, JYJ's upcoming magazine will be released this month in Korea and Japan, and can be bought at the CJeS Store (http://cjesstore.com/ , http://www.jyjjapan.jp/).
Source: [bnt news]
Translated & Shared by: dongbangdata.net
JYJ Fantalk Source: dongbangdata.net
Share This