[Trans] 130306 Max Changmin Confesses, "The Biggest Turn Off Is A Woman Who Goes Off The Grid To Spite Me"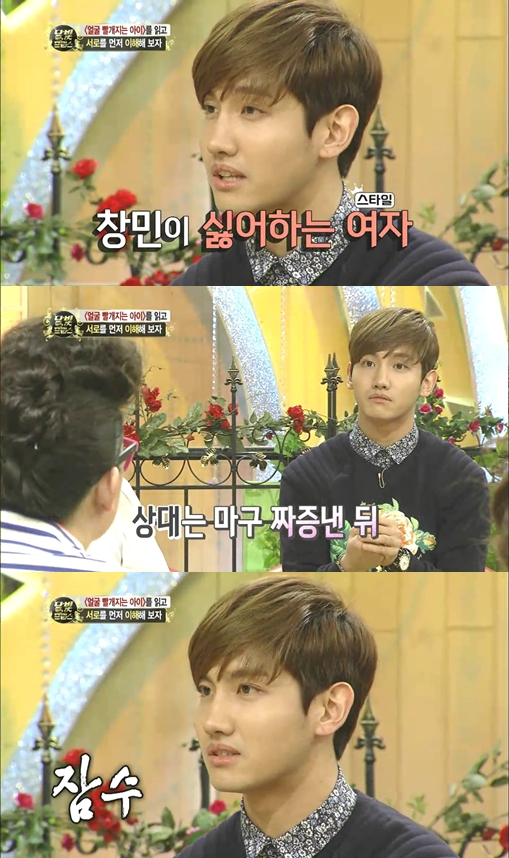 TVXQ's Max Changmin revealed what type of girl he dislikes most.
On the episode of KBS2′s 'Moonlight Prince' that aired on the 5th, the guests and MCs talked about the type of women who are the biggest turn offs. Max Changmin chose 'Women who go off the grid out of spite' and revealed that he once broke up with his former girlfriend because of this.
Max Changmin stated, "When you date someone, there are times when you fight because both sides have done something wrong. I will apologize and say 'I was wrong' to mollify her, but there was one who said, 'I don't know, whatever, I don't want to hear it' in response and ignored my calls and went off the grid. I hate that."
Kang Ho Dong shared his sentiments as he stated, "Going off the grid when you're in a relationship should be a crime. Not being able to reach her by phone drove me crazy. And women know exactly what effect it has on men. They refuse your calls, whether their phone is on or off."
After hearing Kang Ho Dong and Max Changmin's conversation, Kim Wan Seon argued that going off the grid was a part of the tug-of-war in love as she stated, "But isn't the art of tug-of-war in a relationship important? You have to be good at it to be loved."
But the men on set refuted this claim as they said, "We've seen so many couples break up early on in their relationships because of it," and Max Changmin confessed, "I've broken up with someone once because she went off the grid."
Meanwhile, the guest stars of the episode were Lee Young Ja, Kim Wan Seon, Kim Sook and Kwon Jin Young and the four stars showed off their wit and charm in the latest episode of 'Moonlight Prince'.
Source: [enews24]
Translated & Shared by: dongbangdata.net
Momma's Source: sharingyoochun.net
Share This