[Trans] 110725 Avex Sues The Sumo Association For 143.4 Million Yen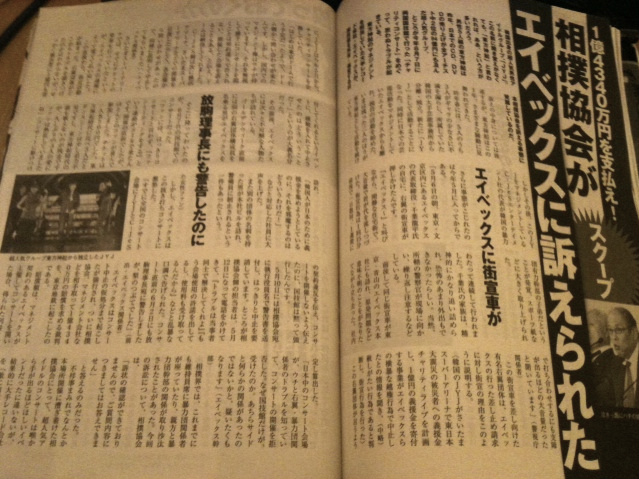 (T/N: This article was translated from the magazine Shuukan Genzai. It's a rather disorganized article and contains factual errors, so please take this article with a pinch of salt. Also, additional translator notes had to be added to make more sense out of this article, so please bear with me)
Even if you've never heard of the popular Korean idol group JYJ, you would probably be familiar with the name "Tohoshinki." 5-man boyband Tohoshinki is a highly popular group that was ranked as the no.2 best selling artist for CDs & DVDs last year in Japan, with earnings close to 9.4 billion yen.
However, unexpected trouble has arisen due to their "Charity concert" which was held in the Ryogoku Kokugikan on 7 June this year.
Tohoshinki's management company in Japan, the large recording label Avex has announced that they are currently suing the Japan Sumo Association, who owns and manages the Kokugikan. We will talk about the details of this lawsuit a little later, but Tohoshinki has been facing various issues within the year.
During spring of last year, 3 of the 5 members in Tohoshinki revealed their unhappiness with the low amount of remuneration they were receiving, and broke away from their (Korean) management company, which is one of the largest entertainment companies in Korea. They became independent and started activities as "JYJ." At the same time, they also left their Japanese management company Avex, and started doing activities independently. Currently, the two remaining members are continuing their promotional activities as "Tohoshinki."
(T/N: This is a factual error. JYJ signed a new contract with Avex initially as JEJUNG/JUNSU/YUCHUN (JJY), which led to the release of the "The.." album as well as the "Thanksgiving Live in Dome" concerts, with Avex announcing the suspension of JYJ's activities later in the year citing reasons as stated below)
However, it was later discovered that JYJ's management company C-Jes Entertainment's representative was involved in gang-related activities, and this was picked up by the sports papers. (T/N: Sports papers = Japanese tabloids)
Sending Propaganda Vehicles to Avex
Furthermore, this issue became complicated in May this year.
"On the morning of 6 May, in Tokyo's Bunkyo City, near Avex's Executive Vice President Chiba Ryuhei's home, right-wing propaganda vehicles turned up in an aggressive manner.
While yelling "AVEX!" they continuously played the Japanese anthem at a loud volume in the quiet residential area. These propaganda activities would happen for around 15 minutes at a time, and occur several times a day, continuing for a week. Chiba's family were emotionally run down, and were too afraid to even step out of the house. Naturally, the police officers in the area came and gave repeated warnings about this.
Around the same time, the same propaganda vehicles visited the Avex head office in Aoyama, shouting about the nuclear plant and other unknown issues before leaving. The volume could be heard so loudly that it affected the operations within the office."
– Representative from the Police
The famous right-wing group that sent the vehicles explained that the protest was due to Avex's actions to demand a prohibition.

According to this right-wing group, JYJ had been planning for this charity since May of this year.
"Initially they planned to hold it at Tokyo Dome, and we received an inquiry from them. However, we hold the management rights within the country, and having this concert with such disregard would be a breach of contract, and therefore could not be allowed. The event location was informed that they would be held responsible as well, so Tokyo Dome refused to give its approval (for the event.)
C-Jes then approached Yokohama Arena, Saitama Super Arena and others, for a location to hold the event. We received inquiries from various locations and we gave the same explanation, requesting for them to desist. "
– Avex related personnel
Saitama Super Arena, who had already started selling tickets, panicked and withdrew (from the agreement) after receiving this notice from Avex.
Immediately after this, the protests happened. Where the right-wing group heard about the event is unclear but, "After so much effort in organizing a charity event that could raise 100 million yen for the disaster victims, why are you raising objections and preventing the event from happening," they argued with good reason.
It was around this time that suspicious people started "paying visits" to Avex.
Just before Golden Week, a man claiming to be from another right-wing group visited Avex, saying "The Koreans are helping to raise relief funds for the Japanese, so why are you causing problems for them?" and other things, raising his voice at the staff who served him.
Also, there was an incident of a man holding a name card of another group visiting the head office building, but was stopped by the security personnel.
Warnings Were Issued To (Japan Sumo Association) Chairman Hanaregoma
All of a sudden, the 7 June concert was to be held at the Kokugikan.
"An email came, with contents that said something similar to, "To the fans, this wouldn't exactly be called a concert but more of a fanmeeting." Although this was announced just before the event was held, most of the fans participated very happily. The tickets cost 8,500 yen per person. Compared to the time of Tohoshinki, the trio's dances may seem a little lacking in power, and it was a pity that they couldn't sing Tohoshinki songs, but the fans were really passionate as they were finally able to see the three members after a long time."
– Female fan who attended the concert
However, Avex was enraged by this sudden concert. "We informed all concert venues that JYJ and C-JeS were in breach of contract, and requested for them not to hold the concert. However, the Kokugikan silently pushed through with it.
"On 10 May, we issued a warning letter addressed to the Executive Director of the Japan Sumo Association(JSA) and distinctly requested for a cancellation. But a representative of the Sumo Association called us on 12 May and said "Settle the problem among yourselves," "Because we have already given them approval to use the venue, and also received payment." in a hostile manner. On 2 June, just before the concerts, we sent another warning to Chairman Hanaregoma, but was completely ignored."
– Avex related personnel
Avex even applied for a provisional disposition to prevent the concert from happening, but it was held nonetheless. And now, they are now suing the Sumo Association and its management partners, requesting for 143.4 million yen in compensation at the Tokyo district courts.
This compensation amount was calculated from the expected profit that Avex would have earned as the rightful management company, if they had held the concert.
"All of the concert venues in Japan refused to hold this concert because they knew about the problems between ourselves, the right-wing groups and gang-related people. But for some reason, the Kokugikan agreed (to hold this concert.) We suspect that it's possible that they may be connected to those (right-wing groups and/or gangs) sides"
– Avex management staff
The Sumo circle have always seen gang-related people sitting in the "ijiin" seats (T/N: the best seats closest to the sumo ring) , and there has been rumours that the "oyakatas" (T/N: Sumo coaches) have gang connections as well. With regards to this lawsuit, the Sumo Association said, " We have yet to be able to verify this writ, so we are unable to reply to your inquiries."
For the Sumo Association, who were finally able to hold their "Grand Tournament," after being plagued by misfortune, a popular idol group concert would definitely have been something that they would want very badly. However, it resulted in them antagonizing a big record company.
Source : [Shuukan Genzai]
Translated & Shared by : dongbangdata.net
Momma's Source: sharingyoochun.net
Share this: