[TRANS] 131224 Photographer Cho Sun Hee Takes A Photo With Park Yoochun, "We Started Laughing When We Felt A Connection"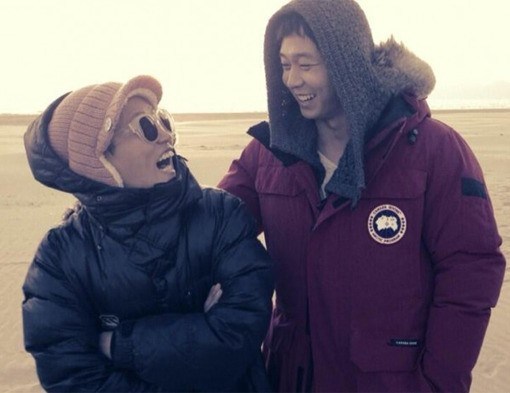 Photographer Cho Sun Hee recently released a photo she took with actor Park Yoochun.
The photographer posted the photo on her personal Twitter account with the caption, "It isn't easy for a photographer and her model to connect and understand each other completely. But I think such laughter can be caught on camera when the two feel a connection. I'd like to thank Yoochun for really getting into it, despite the cold weather by the sea."
The photo shows Cho Sun Hee and Park Yoochun facing each other and laughing. The desert-like background behind them and their padded jackets give off a sense of closeness between the two people. Their bright expressions as they face each other are the focal point of the photo.
Netizens who saw the photo left comments like, "Park Yoochun looks great," "I can't wait to see the final product of Cho Sun Hee and Park Yoochun's work together," and "I wonder what they were working on?"
Meanwhile, Park Yoochun is currently filming for the movie 'Sea Fog' and will soon begin filming for SBS' new Wednesday-Thursday drama 'Three Days'.
Source: [sports donga]
Translated & Shared by: dongbangdata.net
JYJ Fantalk Source: sharingyoochun.net
Share This