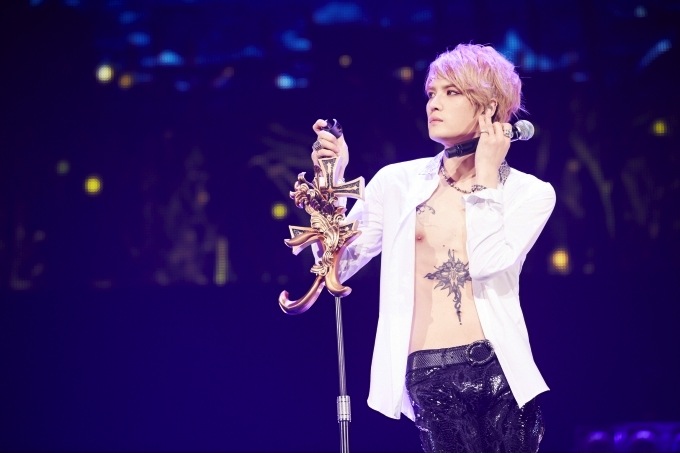 Kim Jaejoong's 1st Asia tour concert in Osaka was held last Dec 18.
Kim Jaejoong has released his first solo album WWW: Who, When, Why last Oct 29. His Asian tour started in Seoul last Nov 2-3, followed by Yokohama (Nov 15-16), Nov 23 in Taiwan, December 7 in Nanjing, then Osaka.
He talked fluently in Japanese, hold conversations with his fans, and his bold and candid speech reflects his true feeling.
"I'm sorry, I'll change into some clothes on stage."
Subtle seduction? After singing Rotten Love, he removed his fur jacket and his pale chest can be seen, sits on the couch while changing dress shirts.
"I'm on vacation now, because doing Live is not a job. Let's play. Let's Enjoy."
His response after fans' enthusiastic response at Kiss B.
Gummy: "Jaejoong is prettier than me but I'm cooler right?"
Fans: "Gummy is beautiful."
Gummy (hands on her face): I feel shy when someone calls me beautiful.
It's time for Kim Jaejoong who entered the stage cutely.
"Wet hair, Wet body, even my underwear is wet. Oh sorry, what am I saying."
The camera shows everyone in real time while Kim Jaejoong takes off his clothes back stage. In particular, the cameraman lowers the camera on the lower part of his body much to the enthusiastic screams of his fans.
"Ultra Soul is amazing. It makes the atmosphere livelier. It's a good song but the last part has some high notes."
But he repeated it twice after fans made the request. A male fan continues and the audience responded as well.
"I hope this Live will not be over. I don't want to end it."
Encore stage which might be the last stop of the Asian tour.
"I'll have my 10th anniversay on the 26th… 8 years in Japan, half of which, I was not able to work in Japan. A lot of things happened but it doesn't matter since I am singing, dancing, and having fun with everyone. I believe that we must strive to be happy everyday."
His response when seeing messages congratulating him for his 10th year anniversary.
"Next year, I will only have a bit of time before I go to the army for 1.5 years. I will not have activities for a short period but I am not afraid. He quoted a famous Japanese expression "Itsumo soba ni" which means I am always here."
There is no definite schedule but he wants to come to Japan next year.
Source: TVDaily via Nate
Translated by: Ruby (@rubypurple_fan) of JYJ3
Shared by: JYJ3
JYJ Fantalk Source: JYJ3
Share This