[Trans] 110829 AKB48 Appears On A-Nation, Tohoshinki The Closing Act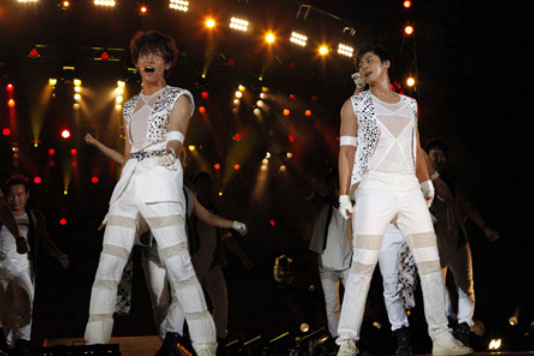 Organized by Avex, the largest outdoor live tour in Japan "a-nation 10th anniversary for life Charge & GO!"(7 Performances in 5 Cities) performed in Tokyo's Ajinomoto Stadium on 29 August (T/N: This is a translation error – it should be on 28 August). Popular idol group AKB48 made their first appearance (at a-nation) and with Tohoshinki as the closing act, the audience of 52,000 people were in a frenzy.
(Irrelevant portions omitted)
In the Tokyo performance on 27 August, Tohoshinki appeared for the first time in 2 years, and were the closing act for the first time in a-nation. This day, they were also the closing act, showing a powerful stage. As the two men took to the stage, the red penlights shook passionately, and the stadium was filled with cheers. Performing the intense dance number "Rising Sun," Yunho said "Thank you for waiting, Tohoshinki has returned to a-nation! Tokyo is truly great. It's passionate and feels really good." Changmin said "I'm really happy to be performing with such great artists, and I'm really happy to be able to spend time with everyone who is here right now," in a thankful manner, earning cheers and screams from the audience. Then, as he perspired, Changmin was going to announce the next song, and the audience responded with an "Eh~ (wanting him to talk more)" and Changmin said "Every time I say "we're going to perform our next song", you say "eh~" but still, now it's time for the next song!" cutting everyone off swiftly while inducing laughter, and revealed their new song "Superstar." Following that, they did a medly of songs including "Toki wo tomete" and "Somebody to Love," bringing the entire crowd to a collective high, and finally did the spectacular dance performance of "Why? (Keep your head down)." "You've all worked hard at a-nation 2011. This has been a really happy summer!" (Changmin said) as they finished the last of the tour.
(Irrelevant portions omitted)
Source : [@pia]
Translated & Shared by : dongbangdata.net
Momma's Source: sharingyoochun.net
Share This