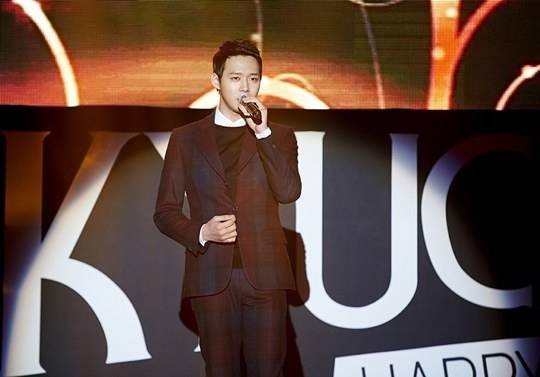 JYJ's Yoochun held a special new year's fanmeeting for his Japanese fans!
His label said, "Yoochun had his 'PARK YOOCHUN 2014 HAPPY NEW YEAR FANMEETING IN SEOUL' today afternoon at Gangnam's The-K Seoul hotel. 1,000 Japanese fans came to Korea for a special New Year's fanmeeting with Yoochun, and he gave them an unforgettable 200 minutes."
Yoochun started the fanmeeting with Kim Dong Ryul's "Aged Song". He had a cake cutting ceremony to celebrate 10 years since debut as well as his first fanmeeting of 2014. When his fans told him, "We always waited for you", he answered, "I miss you, too".
During the talk time, he said, "As I met you, I think I became optimistic and confident." Since it was the year of the horse, he even gave a fan a picture of a horse he drew himself. He also introduced his Japanese fans to Korean traditional games, and also sang his self-composed song "Walking Spring With Her".
The fanmeeting representative said, "The fans' response to Yoochun's New Year fanmeeting was amazing. It's also unheard of that 1,000 people came to Korea just for a one-day event. After 'Rooftop Prince' was aired in Japan, he couldn't go to Japan because of his movie and drama, and that's why he prepared this fanmeeting. That's why the response was even hotter."
Yoochun said, "It was a fun fanmeeting because I haven't had one in a while. I got energy by meeting my fans. I want to perform in Japan this year with JYJ."
credit: allkpop
JYJ Fantalk Source: sharingyoochun.net
Share This