Tag Archives:
Hey! Hey! Hey!
[Vid] 120109 HEY HEY HEY TVXQ and Boa Cut
credt: share04463
Momma's Source: sharingyoochun.net
Share This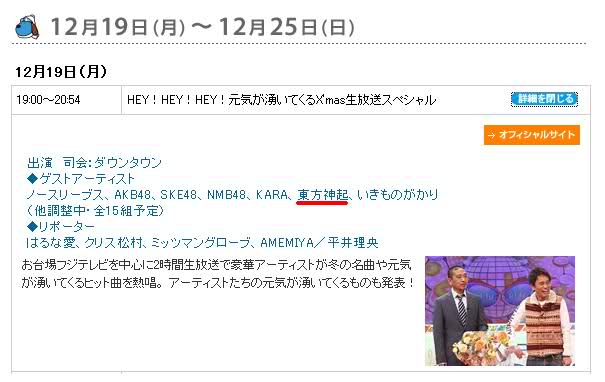 19 December (Monday)
19:00 ~ 20:54
Guest artists: no3b, AKB48, SKE48, NMB48, KARA, Tohoshinki, Ikimonogakari (more TBC; total 15 teams)
Reporter: Haruna Ai, Chris Matsumara, Mitz Mangrove, AMEMIYA. Hirai Rio
Over 2 hours, these artists will perform well known winter songs and their energizing hit songs at Odaiba FujiTV's stage.
Source: [fujitv]
Translation credits: mandasoh@tohosomnia.net
Shared by: tohosomnia.net
Do not remove/add on any credits
Momma's Source: sharingyoochun.net
Share This
[VIDEO] 110711 Tohoshinki Preview on Hey! Hey! Hey! Special
Tohoshinki will appear on Hey!Hey!Hey! Special with SNSD, EXILE, AKB48, Perfume, 2PM, KAT-TUN, and many more! Are you excited for this? This show will be broadcasted on July 18th~
Source: misslisieux2701
Finder: ContinueTVXQstaff_misslisieux
Credit: ContinueTVXQ.com
Momma's Source: dbsknights.net