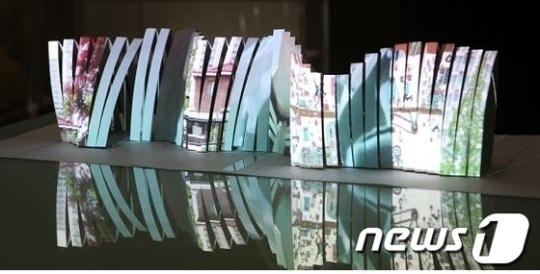 Concept art from the 'My Favorite Gwangju' exhibition, a collaboration with U-Know Yunho'
There are fifty days left till the 2013 Gwangju Design Biennale and it's already become the talk of the town.
With a two-top strategy of inviting 'Hallyu stars' BoA and U-Know Yunho to participate in promotional activities, it was revealed on the 17th that requests about the convention are flooding in from China and Japan.
This year's event is expected to write a new page in 'Gwangju Tourism' history as a map of tourism in Gwangju is set to be created on the heels of the biennale's expected success.
When it was reported that U-Know Yunho would be attending his honorary ambassador commencement ceremony on the 5th of September, fans both in Korea and overseas began calling the foundation to secure seats for the event.
Ticket reservation sites in Asia are experiencing a 'Gwangju Boom' from Japanese and Chinese fans, and travel agencies are working on holiday packages that include the commencement ceremony at the Gwangju Design Biennale for U-Know Yunho's overseas fans.
After attending the commencement ceremony, Asian fans are planning to visit U-Know Yunho's 'My Favorite Gwangju' exhibition, as well as his old school.
With requests coming in for Japanese and Chinese leaflets for the 2013 Gwangu Design Biennale, the foundation in charge of the event is set to print more leaflets soon.
The 'Gwangju Map Project', which will study the history of Hallyu stars and famous designers from Gwangju, is expected to be popular with fans.
The project will feature a collaboration of 40 famous designers in Korea and will be printed as a book and map detailing the various tourist spots and eateries in Gwangju.
The 40 designers recently spread out throughout Gwangju and the Jeolla Northern Province to find hidden eateries and tourist spots. The project will highlight such places in the province from the perspective of the designers, bring a new angle and approach to such areas.
CEO Lee Yong Woo of the Gwangju Design Biennale stated, "The Gwangju Design Biennale, which is the frontrunner of promoting Korea's designs as a part of the Hallyu Wave, is focus on tourism in Gwangju this year to help the local economy flourish."
Meanwhile, this year's Gwangju Design Biennale will be held for a total of 59 days (September 6th~November 3rd) and the list of participants will be revealed this month. BoA's logo song will be released online around mid-July.
Source: [news1]
Translated & Shared by: dongbangdata.net
Momma's Source; dongbangdata.net
Share This