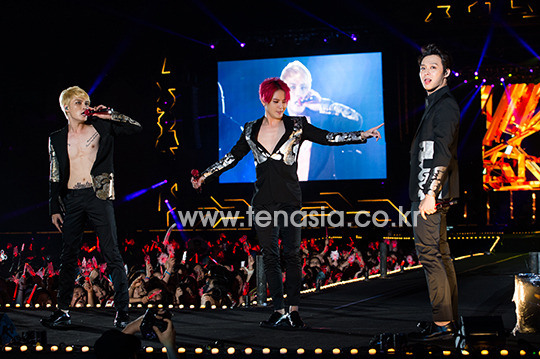 Not even a cool summer breeze could dampen the heated energy shooting out of JYJ. The air buzzed hotter than a tropical rainforest with screaming fans and JYJ's powerful energy filling the outdoor stadium. A passionate performance and explosive screams let the world know that the 'Kings' had returned.
JYJ held the Seoul leg of their 2014 Asia Tour 'THE RETURN OF THE KING' at the Jamshil Stadium on the 9th. The venue was filled to the brim from early on in the day with 30,000 fans who had gathered to see JYJ. Holding red lightsticks in their hands, their shouts were more passionate and energetic than ever as they awaited the return of JYJ as a complete group.
Opening the night with a captivating video, JYJ greeted their fans by saying, "This is something we've felt since we started rehearsing yesterday, but this is great weather to have an outdoor concert. I'm reminded of that cold day many years ago; it was so cold that we couldn't even hold our microphones properly. We're happy that the weather is so nice today."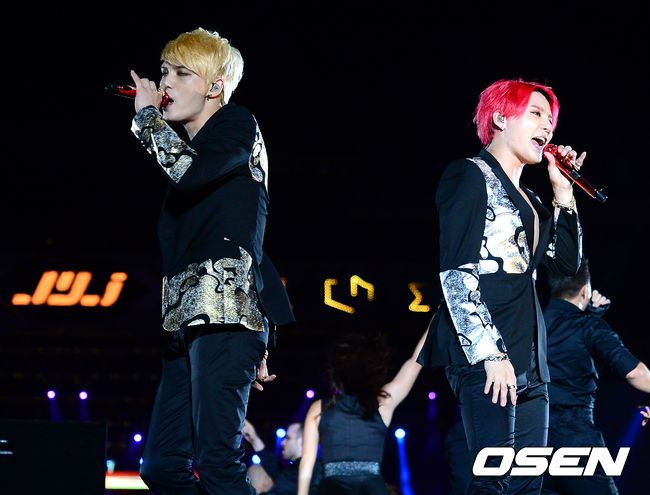 Park Yoochun expressed his gratitude for his fans as he said, "It's supposed to be summer but it feels like fall weather. It's cool and breezy. I saw Junsu performing from behind the stage. It's nice to be back as JYJ and to be seeing you all again. Thank you so much for not forgetting about us."
JYJ also played a video that included a heartfelt letter from the members to their fans. In the video, JYJ said, "To our fans who have believed in us and followed us for the past ten years, we know that you've been smiling and crying, even when we couldn't see you. Although we always feel more sorry than grateful, we'll keep doing our best. Let's make our future a happy one. The people who have the number one place in our hearts are the fans who are watching this video right now. Thank you."
On this day, JYJ's might could easily be felt. Standing on stage together for the first time in approximately four years, JYJ repaid their screaming fans with a passionate performance. They took on a variety of genres, from emotional ballads to exciting dance tracks and explosive rock songs. With 11 years of experience under their belt, JYJ didn't seem to slow down at all throughout their performance, which got their fans more excited than ever.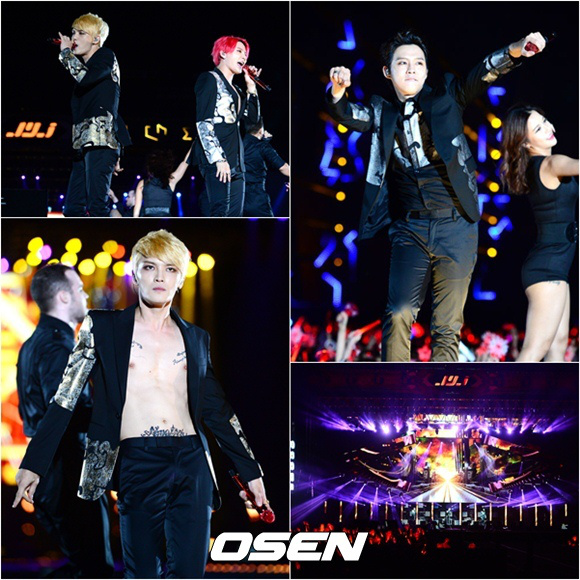 A wide array of solo performances that showcased each member's charm drew the attention of many. Kim Junsu sang a total of four songs, starting with '7 Years' and then going on to sing 'Tarantallegra', 'Turn it up' and 'Incredible'.
Not only did he express the innocent and beautiful emotions of childlike wonder, he also filled the stage with energy and wonder. The stage buzzed with lighting effects, dancers and Kim Junsu's red hair, dyed such a color because of his role in the musical 'Dracula'. His performance with 16 dancers drew people's attention and his choreography that included a red scarf fit him very well. He showcased a variety of performances that reflected his years of experience.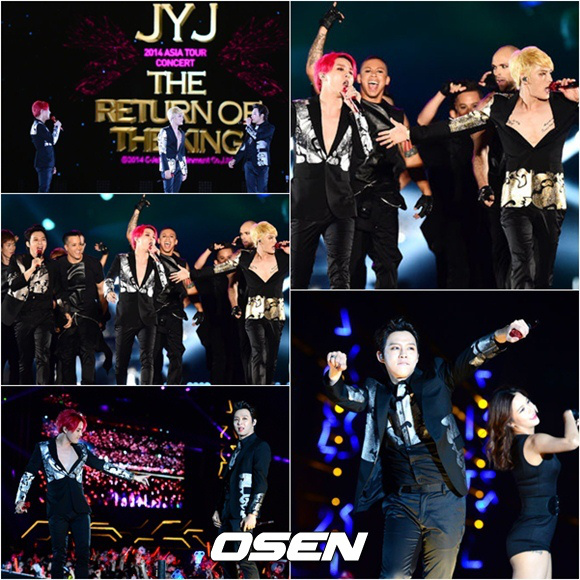 Park Yoochun's sweet solo performance captivated his fans. Starting with '30', Park Yoochun's setlist included 'Walking with Her in Spring' and 'I Love You'. His performance was more meaningful because it had been a while since fans had seen Park Yoochun on stage, instead of on TV as an actor. Park Yoochun's natural and soft charm, coupled with a dance performance with his female dancers, filled the stage with his presence.
Kim Jaejoong performed 'Dear J', 'Butterfly' and 'Mine'. Fans screamed when Kim Jaejoong came on in a revealing outfit. He replied by taking off his top on stage.
Kim Jaejoong's performances showed the rocker within. His charming vocals harmonized with the strong instrumental and revved fans up even more.
JYJ performed over twenty songs including 'Creation', 'Be the One', 'Babo Boy', 'Dad, You There?', 'Let me see', 'Found You', 'So So', 'Be my girl', 'In Heaven', 'Letting go', 'Valentine' and 'Back Seat'. They also performed 'Empty', 'Get Out' and 'Fallen Leaves' for their encore, bringing great joy to their fans.
The day's performance also highlighted JYJ's heartfelt care for their fans. JYJ traversed across a 80m extended stage to get one step closer to their fans. The stage also included a 22m-by-8m main screen that opened up, as well as 12m-by-9m screens on either side to ensure that everyone had a clear view of what was going on. The stage that was connected to the extended stage in the middle was created with a steel truss design, the first of its kind in Korea, to allow more movement.
Eight programmed moving trusses were installed on the main stage, which each truss installed with various video and lighting equipment to bring a different feel to each song. The four runway trusses around the middle stage could be lifted to look like pillars during the concert. JYJ also included an extra small stage to get closer to the fans who were seated in the second and third floor.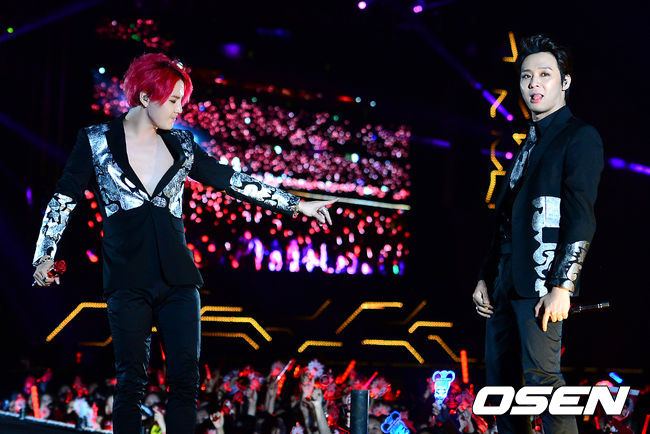 JYJ greeted their fans with more passion and energy than ever. This was their first time together in a while, and they seemed to enjoy it with all of their hearts. They worked hard to bring joy to their fans, and it was great to see them joking around like friends. Because they have been together for over ten years, we could feel a sense of ease and experience oozing from them. Those 150 minutes truly signified the return of the kings of K-pop.
JYJ's fans were just as amazing as their singers. Not only did they fill the stadium with red lights, they also cheered JYJ on with passion and precision. Their love and passion could be felt through their cheers, which never stopped throughout the entire performance. It was a meaningful time for both JYJ and their fans.
Meanwhile, JYJ recently released their second full-length album 'JUST US' on the 29th of July. The album is their first in three years since 'In Heaven', and includes lyrics and songs written by the members themselves. JYJ's popularity was proven when over 120,000 copies of the album were pre-ordered. They also dominated various online music charts when their album was released.
Kicking off their tour in Seoul, JYJ will move on to perform in eight cities around Asia, in regions such as Hong Kong, Beijing and Vietnam.
Source: [osen]
Translated & Shared by: dongbangdata.net
JYJ Fantalk Source: dongbangdata.net
Share This