[TRANS] 130407 JYJ's Jaejoong Reveals In Nanjing Solo Concert "I'll Get Married At About 38″
(T/N: I know that JJ's event is technically a "Mini Concert and Fanmeeting" but the article calls this event a concert for most part so I'm just going to go with it)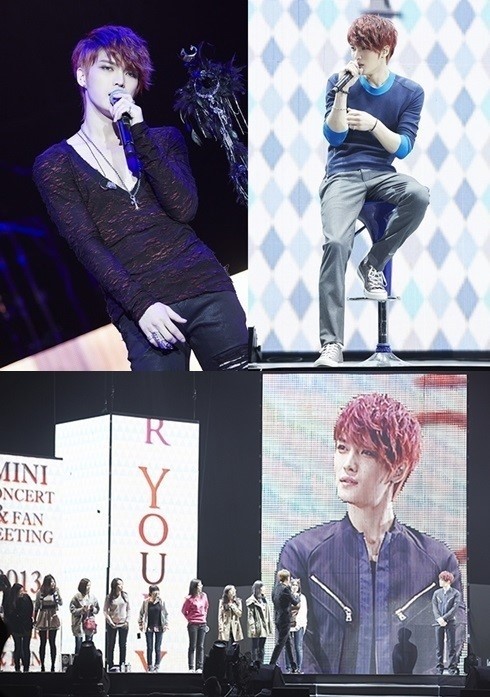 Idol group JYJ member Kim Jaejoong held his solo concert in Nanjing, China, and revealed that "I'll probably get married at about 38."
Jaejoong held his solo concert "Your, My and Mine in Nanjing"at Nanjing's Olympic Sports Center on 6 March 2013.
On this day, through stages such as a mini-talk, quiz show and other exciting events, Jaejoong came closer to the hearts of his fans. When asked "When will you get married?" he replied "Around 38," and also "Compared to someone who is too skinny, I prefer someone a little chubby" and received loud cheers from the fans.
Following that was the cooking corner, where Jaejoong made rabokki (Dukkbokki with ramen added to it) together with the fans, and then performed the song "Kiss B" which is found in his repackaged album. The final program in the fanmeeting was a paparazzi corner, revealing unpublished photos of Jaejoong and his unstoppable charms.
At the start of the mini-concert, Jaejoong appeared transformed as a rocker, as the passion continued to take over the hall. Jaejoong performed his first solo song to be revealed from his mini album "One Kiss" in a glamorous stage, then continued with songs from older singers such as "I Loved You", "For You", "Always Yours" and other rock ballads. He performed "I'll Protect You" with the fans, and they showed their support for Jaejoong by singing along in perfect Korean as a group.
Jaejoong has been holding his Asia Tour starting with Ilsan in January, continuing with Thailand, Shanghai, Hong Kong, Nanjing and continuing with Taiwan on 13th April.
Source : [K Style News]
Translated & Shared by : dongbangdata.net
Momma's Source: dongbangdata.net
Share This