[Trans] 110803 PD Of 'Kiss&Cry' Says, "It's A Shame That U-Know Yunho And Claudia Had To Withdraw"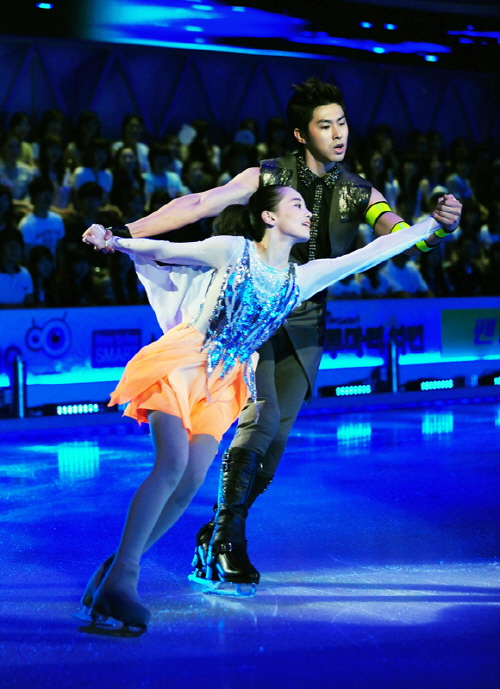 The U-Know Yunho-Claudia couple have decided to withdraw from the SBS variety show 'Kim Yuna's Kiss&Cry'.
PD Kim Jae Hyuk of 'Kiss&Cry' stated on the 3rd that, "U-Know Yunho and Claudia will be withdrawing from the competition," and "Out of all the participating figure skaters, Claudia is currently the only active skater as a backup national athlete and will begin training from early August."
He continued to add, "Claudia will also be competing at the Junior Grand Prix prematch which will be held at Taereung in early August. Her scheduled activities will overlap. What an active skater needs more than anything is practice and competitions. That is why she decided to withdraw."
This meant that the two didn't participate in the filming of the fifth round that was held on the 2nd. They will replace their scheduled performance with an interview regarding their withdrawal for the episode that will air on the 7th.
PD Kim stated, "Initially, 'Kiss&Cry' was scheduled to end at the end of July," and "However, the World Figure Skating Championships, which Kim Yuna was listed to perform in, was delayed a month due to the earthquake in Japan. Therefore, 'Kiss&Cry' was delayed a month as well. We've been continuously trying to adjust the schedule but it wasn't an easy task. It's a shame."
He also added, "U-Know Yunho is also feeling extremely sad about it," and "It would have been nice if U-Know Yunho and Claudia could have stayed with us till the end, but they have had to unfortunately withdraw and it's a real shame. Though the program is important, training is more important to an active skater like Claudia. We ask for our viewers to understand their situation."
Source: [star news]
Translated & Shared by: dongbangdata.net
Momma's Source; sharingyoochun.net
Share this: