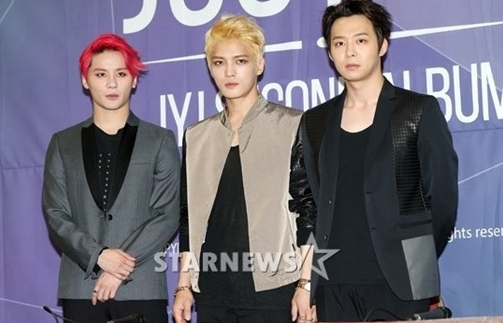 JYJ (Kim Jaejoong, Park Yoochun, Kim Junsu) have proven their everlasting popularity by topping the album sales charts for two consecutive weeks.
According to Hanteo Charts, JYJ's second full-length album 'JUST US' has sold a total of 28,840 copies from the 4th till the 10th of August, making it the most-sold album of the week.
After being released offline on the 29th, the album sold 32,788 copies in its first week and topped the charts, making this its second consecutive week in the top position.
The group also proved their popularity overseas when their album ranked second place on the Oricon weekly charts and 4th on Billboard's world album charts. These achievements have been highlighted by the industry because they were achieved by an album with Korean lyrics rather than an album tailored to these overseas markets.
This is JYJ's first album in three years since their release of 'In Heaven' in 2011. Their title track 'Back Seat' is an urban R&B track with emotional lyrics and a mystical atmosphere. It topped the music charts as soon as it was released online.
Meanwhile, the second week of August (4th~10th of August) reflected the recent trend of male idol domination. Block B's 'Her' sold 14,838 copies and came in at second place. B1A4's 'Solo Day' came in at third with 6,768 copies sold, and Infinite's 'Back' came in at fourth place with 2,114 copies sold.
Source: [star mt]
Translated & Shared by: dongbangdata.net
JYJ Fantalk Source: dongbangdata.net
Share This