By Mark Leberfinger, AccuWeather.com Staff Writer
November 17, 2013; 8:00 PM
At least seven people were killed as a result of Sunday's tornado outbreak in the Midwest.
Patty Thompson with the Central Office of the Illinois Emergency Management Agency confirmed that there have been six fatalities for the state and that there are likely over 100 injured, though that number is not yet official.
The Associated Press has reported an additional death in Michigan as a result of the storms.
Washington County, Ill., Coroner Mark Styninger told The Associated Press that an elderly man and his sister were killed around noon local time when a tornado hit their home in the rural community of New Minden in southern Illinois.
The AP also reported a third death occurred in New Minden while two other deaths occurred in Massac County, also in southern Illinois.
The New Minden tornado was preliminarily rated as an EF-4 (166 to 200 mph) on the Enhanced Fujita Scale, according to an initial survey by the National Weather Service Forecast Office in St. Louis.
At least 20 people were injured there, The AP reported. More than 30 people were injured around Nashville, Ill., WBBM-AM/FM reported.
Tornado touchdowns were reported Sunday in Illinois, Indiana and Kentucky.
At least 68 tornado reports have been received by NOAA's Storm Prediction Center, along with about 400 wind damage reports on Sunday.
A majority of the reports came from Indiana and Illinois, where AccuWeather.com meteorologists expected the worst storms to take shape.
"It had the best combination of instability; the sun came out several hours before the thunderstorms blew up," AccuWeather.com Senior Meteorologist Frank Strait said. "The wind shear was also favorable for tornadoes."
Based on photographs of some of the tornado touchdowns, the destruction looks "pretty serious," Strait said.
"It was what we thought there would be: big, violent-type tornadoes," Strait said.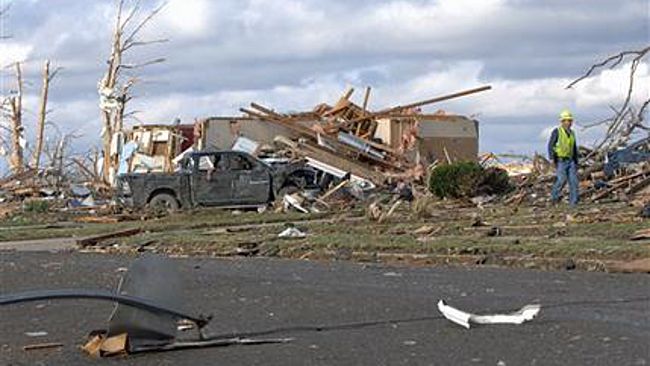 An Ameren Illinois worker walks past homes looking for gas and electrical hazards in Washington, Ill., Sunday, Nov. 17, 2013. Intense thunderstorms and tornadoes swept across the Midwest, causing extensive damage in several central Illinois communities while sending people to their basements for shelter. (AP Photo/The Pantagraph, Steve Smedley)
An apartment complex was severely damaged in Washington, Ill., according to the Peoria Journal Star. A shelter was established for those in need of a place to live for the time being.
The Central Illinois chapter of the American Red Cross was setting up additional shelters around Washington, the chapter said on its Twitter feed. Seven shelters had opened across Illinois, according to the Illinois Emergency Management Agency's website.
The Illinois National Guard said 10 firefighters from the 182nd Airlift Wing were deployed to Washington to aid with search and rescue efforts.
Another tornado was reported in the Chicago suburb of Frankfort, Ill.
At one point, more than 116,000 Ameren Illinois customers were without power Sunday afternoon as a result of the storms, according to the utility's website.
A state of emergency was declared by Mayor Greg Goodnight in Kokomo, Ind., where significant storm damage was reported.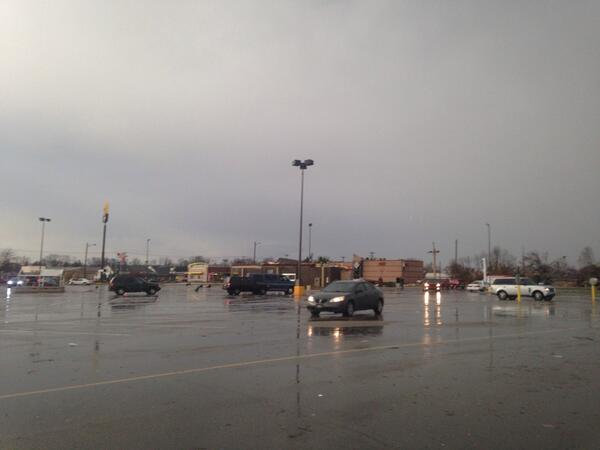 Kokomo Police @KokomoPolice
Heavy damage to businesses in Maple Crest area. Lights out at Lincoln and Washington. Avoid the area.
3:33 PM – 17 Nov 2013 from Kokomo, IN, United States
Emergency management reported at least one home was destroyed by a tornado and another was severely damaged near Logansport, Ind. Gas leaks in the area also forced evacuations.
The Union County, Ky., emergency management office said a tornado caused widespread damage countywide with homes, a garage and outbuildings destroyed.
RELATED:
Damaging Winds to Shift to Northeast Into Monday
AccuWeather Severe Weather Center
LIVE: Tornadoes Touch Down in Indiana, Kentucky
A November tornado outbreak is not unprecedented, occurring once every four to five years, Strait said.
"It looks like this will go down as one of the worst we have seen in November in recorded history," Strait said.
An overturned car rests on top of tree branches and other rubble near the destroyed home of Curt Zehr, about a mile northeast of Washington, Ill., on Sunday, Nov. 17, 2013. Intense thunderstorms spawning tornadoes swept across the Midwest on Sunday. (AP Photo/David Mercer)
credit: Accuweather News
JYJ Fantalk Source: accuweather.com
Share This