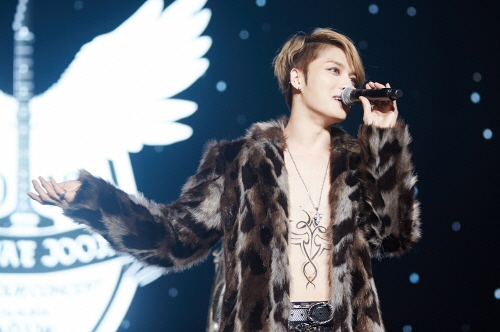 Kim Jaejoong of JYJ will hold "Korea Tour Concert" in Busan, Gwangju, and Seoul to celebrate his 29th birthday that is coming on January 26th.
The fierce ticketing for 10 thousand seats of his concert in Seoul was sold out in less than five minutes. According to C-Jes Entertainment on the 15th, although it's the third time enlarging the ticketing, more tickets for JYJ Kim Jaejoong's "Korea Tour Concert" in Seoul will soon be available.
The live concert will be held for two consecutive days on January 25th and 26th at Hwajeong Gymnasium of Korea University. The fans expect many special events, and it is certain that there will be a birthday party session included.
This concert is part of Jaejoong's "2014 Kim Jaejoong 1st album Asia Tour Concert & J party" that has been going on since the publication of his 1st official album "WWW: Who, When, Why" last October. He has amazed many cities with the concert in Asia that has started from Seoul and has included stops in Yokohama, Taiwan, Nanjing, and Osaka.
He will resume the tight concert schedule next week at Nagoya and Seoul and continue to tour around Asia for his concerts.
Source: Star News
Credit: Koreaboo
Shared by: JYJ3
[NEWS] Kim Jae-joong Opens More Tickets to Seoul "J Party" Today – 10Asia
[INFO] 2014 Kim Jae Joong 1st album Asia Tour Concert & J party TICKETING ROUND 3 at 8pm KST TODAY! Due to high demand, they added audio seats (2nd floor, sections F and I) – (Source: Interpark, Via: @The_little_pear of PrinceJJ)
JYJ Fantalk Source: JYJ3
Share This