[Trans] 130701 [JYJ MW] Part 3: Seeing JYJ's Fan Expo Through Numbers
– 17,000 participants, an economic impact of 10 billion Won, a commercialization of 0 Won
– Said to have created a new business domain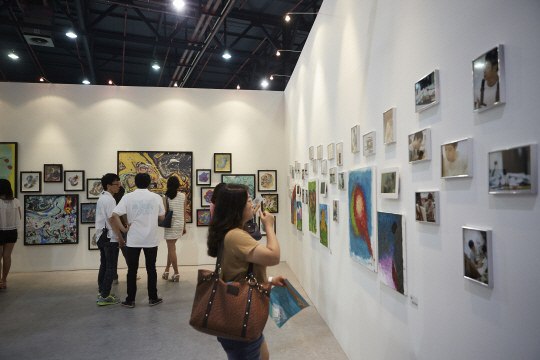 A scene from the art gallery of the JYJ fan expo
JYJ held their '2013 JYJ Membership Week' fan expo from the 27th till the 30th of June at SETEC in Seoul. The 'JYJ Membership Week' is a large-scale fan expo held by C-JeS Entertainment for those signed up for the JYJ membership program.
The reason why JYJ's fan expo has garnered so much attention is because it has shifted the paradigm away from that of fanmeets, concerts and handshake events held by other entertainment agencies. They haven't stopped at just singing and acting, but they have also utilized artwork and technology to create various attractions for fans. JYJ began their fan expos last year and have placed their focus on new projects and creating a connection with their fans. They have received positive feedback for creating a new economically innovative paradigm for the Hallyu culture.
# 0
The '2013 JYJ Membership Week' event refused all offers from corporations and public institutions, and did not sell any MD goods. C-JeS Entertainment created an event with '0 Won' commercialization, with free fanmeets and art galleries. C-JeS Entertainment stated, "With the growth of Hallyu comes the need for new contents. By providing events such as free fanmeets, we have created a space for JYJ to spend time with their fans without a commercialized aspect, creating a stronger loyalty from fans and increasing JYJ's value."
# 3000
JYJ took the 3,000 pyeong space at SETEC, located in Daechi-dong, Seoul, and created three different spaces to share JYJ-related contents and JYJ's own artwork.
The first area held a fanmeet open to fans chosen through a lottery system. The second area was a Media Facade square that featured a media facade, cafeteria and a sticker photo zone. The third area was an art gallery and concert hall that featured artwork created by JYJ and a screening of JYJ's Tokyo Dome concert.
#17000
The '2013 JYJ Membership Week' event was attended by 17,000 fans. Thanks to the 4,000 Japanese fans who were visiting Korea for the event, Myeongdong's Lotte Hotel experienced a rare treat. The shopping districts that had been suffering due to the depreciation of the Yen and the decrease of Japanese tourists were smiling once again thanks to these fans. It was later said that the Japanese fans also embarked on a tour that took them around Myeongdong and Gangnam. During the '2012 JYJ Membership Week' event, JYJ's agency C-JeS Entertainment rented 3,500 hotel rooms in Seoul, Incheon and Suwon, and prepared 250 buses and 300 guides for Japanese fans attending the event. It was stated that this year's event included similar preparations. Last year's event attracted a total of 22,000 fans, including 7,024 Japanese fans, to break the record of the most foreigners flying to Korea to attend a single event.
#10 billion
The '2013 JYJ Membership Week' event is said to have created an extraordinary secondary economic impact because of the 4,000 Japanese fans who visited Korea for four days for the event. Although no commercial activity took place in the JYJ fan expo, the amount of money spent by fans on food and shopping is said to be around 10 billion Won. Last year's '2012 JYJ Membership Week' event had overseas fans staying for three days and even if the lowest costs are taken into consideration, around 500,000 Won if each fan required eight meals during their stay in Korea, it can be estimated that each fan spent around 2 million Won, including the money they spent on their shopping expenditures. CEO Baek Chang Joo of C-JeS Entertainment stated, "We will be donated all the money raised through an auction of JYJ's artwork, and we will keep creating spaces for stars and their fans to connect and become one."
Source: [edaily]
Translated & Shared by: dongbangdata.net
Momma's Source: sharingyoochun.net
Share This