TVXQ's U-Know Yunho and Max Changmin can be seen basking in the warm sunlight, enjoying Italy's summer weather. TVXQ and Italy. Although it seems like these two nouns have no connection to each other, they do in a way, don't they?! That connection is 'Handsome guys'. TVXQ caught the eyes of the people of Italy, young and old alike! Shall we follow U-Know Yunho and Max Changmin to see how they spent their time in Italy?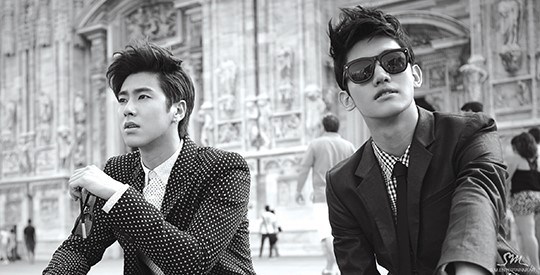 "U-Know Yunho and Max Changmin sitting in front of the Duomo Cathedral"
Where is this? It's Milan. Seeing them sitting in front of the Duomo Cathedral, one of Milan's representative landmarks, really emphasizes that they're in Italy. They stared at the cathedral for a while; it seems as though the majestic beauty of the cathedral has stolen TVXQ's hearts.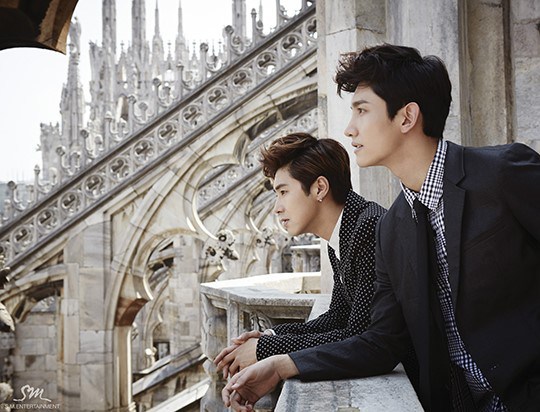 The duo climbed to the top of the Duomo Cathedral, which gives you a view of Milan's entirety. As Milan's landscape came into their view, they couldn't hold back their appreciation and amazement. 'This is great~', 'It feels like a breath of fresh air, right?' Seeing Yunho and Changmin walk back and forth to take in all the sights got us excited as well.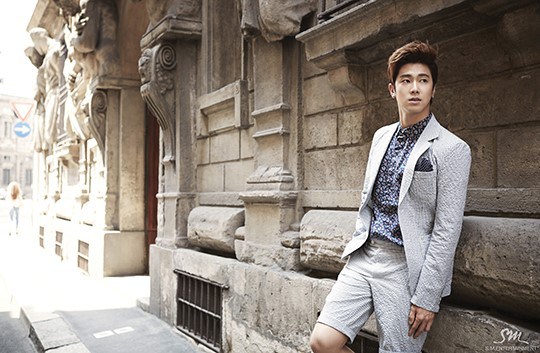 "Walking down the streets of Brera in Milan, the city of fashion"
Walking down the streets of Brera in Milan, the city of fashion, in suits seems to have made the duo feel more excited. True to their reputation as fashionistas who can make any place they go a photo shoot location, Yunho and Changmin kept us captivated.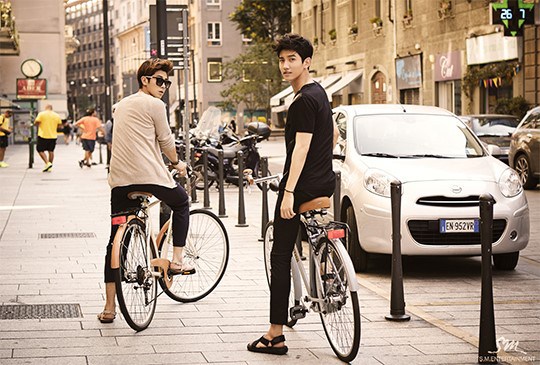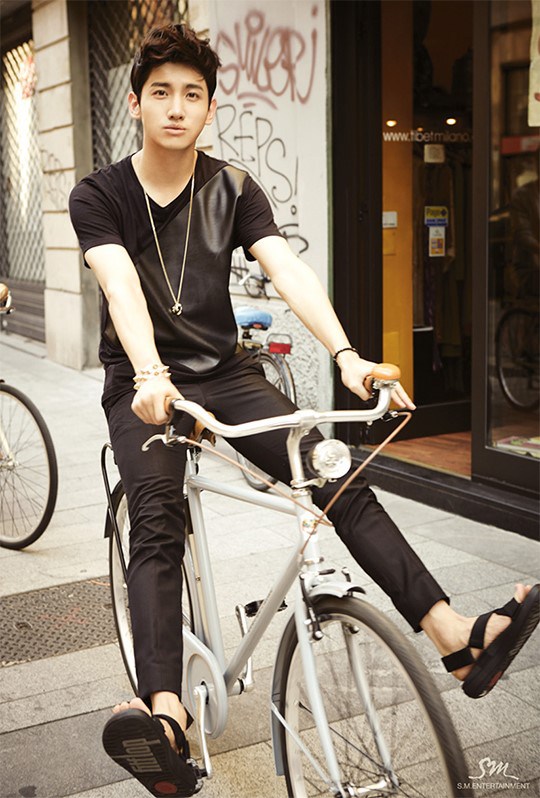 "Traveling around Milan's Corso Como on bicycles! It's so fun~ Yipee!"
It may have been because of their desire to see all parts of the city, but Yunho and Changmin quickly found themselves a pair of bicycles that would make it easier for them to traverse the streets of Corso Como. Stating that it had been a while since they had been able to cycle around a city so freely, the duo became real tourists as they discovered the nooks and crannies of Milan, greeting people as they cycled by, taking breaks and enjoying the sunlight.. We could feel their 'youth' as they enjoyed the sights of Italy!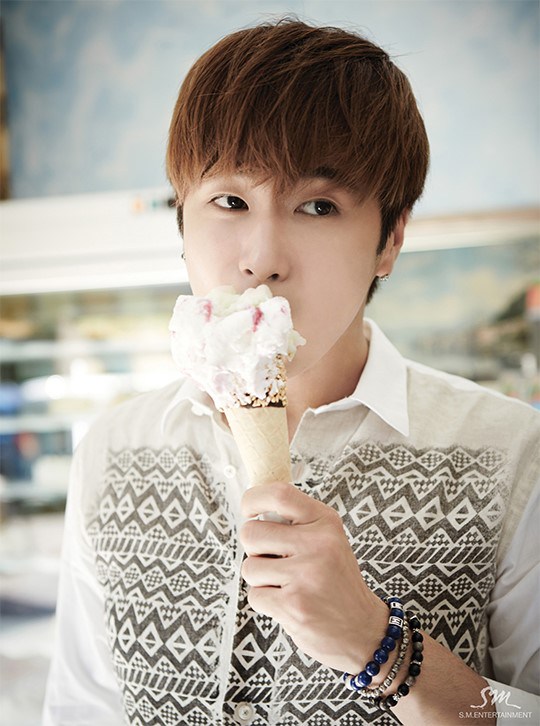 "The endless charms of Italy's gelato have even captivated TVXQ!"
The highlight of any vacation is the food! There are so many delicious things to eat in Italy~ One thing that comes up in everyone's mind when they think of Italy in the summer is gelato! TVXQ were captivated by the soft and sweet charms of gelato, and made sure to try different kinds of the dessert every day. Even the act of eating gelato looks like a commercial when they do it…!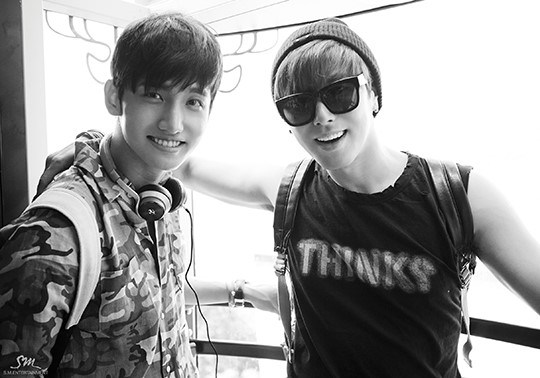 "Shall we begin our Como vacation?"
This is Italy's Como, the greatest vacation spot in Italy~ Riding a funicolare to the top of the mountain opened TVXQ up to a view of a lake as wide as an ocean! They plan to spend the day immersed in nature, indulging in a little R&R~ Changing their style to fit the location, TVXQ showcase a different kind of charm from the charm they showed in Milan! They look like a couple of youths, enjoying a backpack trip through Italy.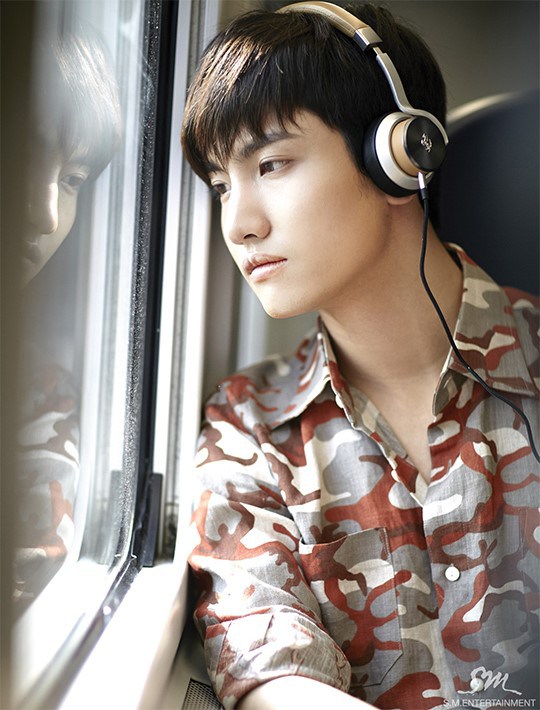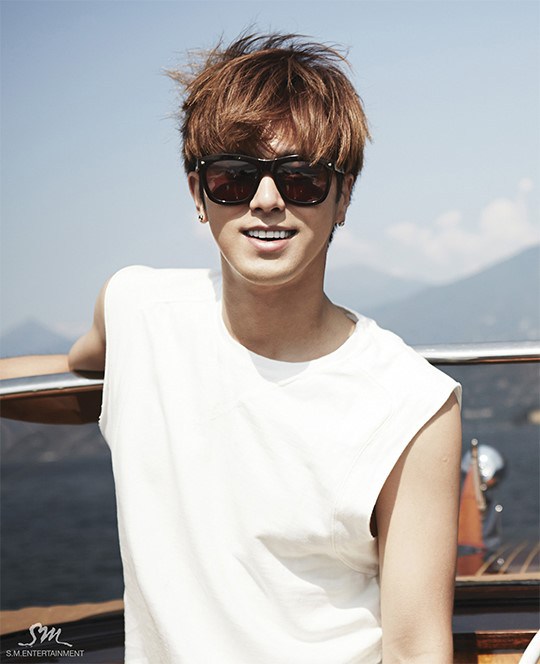 "Melodious music, a cool breeze… Unforgettable moments"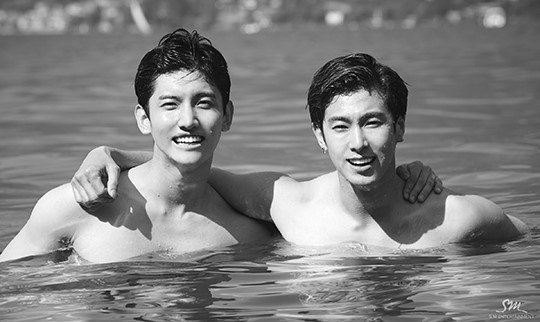 "Making a splash in Lake Como!"
Going full-speed on a yacht felt like a breath of fresh air. They ended up jumping in to the lake and splashing each other with water, acting like children again! Yunho and Changmin were enjoying themselves and Italy's natural wonders~ This is how TVXQ spent one wonderful summer.
"TVXQ bask in the moment at a winery in Bergamo"
When in Italy, one must never forget to visit a winery. The vineyards splayed out in front of their eyes, and  the locals greeted them with a warm welcome and delicious wine. Yunho and Changmin shared stories over a glass of wine, filling the end of their trip to Italy with warm laughter.
This marked the end of Yunho and Changmin's trip to Italy, which marked their ten years together~! We hope you keep an eye on this duo as they continue to do their best. Till next time, ciao!
P.S Don't forget to tune in every Monday and Tuesday at 10pm to watch Yunho in MBC's 'Night Watchmen'! Don't forget!
Source: [Naver Star Cast]
Translated & Shared by: dongbangdata.net
JYJ Fantalk Source: dongbangdata.net
Share This