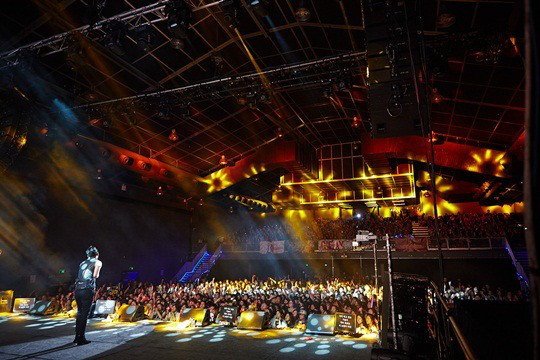 Kim Junsu's first solo concert in Australia has ended in success.
According to C-JeS Entertainment, "XIA Junsu held his first solo concert in Sydney, Australia yesterday and met with his Australian fans. XIA Junsu has been following a busy schedule since landing, going to press conferences and program recordings, and captivated his Australian fans with an explosive live performance in his prime condition."
The concert was held with the title 'XIA Incredible Concert in Australia' at the Big Top Sydney in Sydney, Australia.
2,500 fans gathered at the concert venue to cheer Kim Junsu on, and greeted him with chants of "We love XIA Junsu" before the concert.
The concert consisted of songs from his first album, second album and OST collection, and featured powerful performances such as, 'Tarantallegra', 'Incredible' and 'Fever', ballad performances such as '11 o'clock', 'Foolish Heart', and R&B performances of 'Rainy Eyes' and 'Uncommitted'. Kim Junsu also prepared a special talk segment where he granted wishes for his fans, making the whole event a great event for his Australian fans.
During the concert, Kim Junsu said, "This is the first time that I'm holding a concert in Australia. Although this is my second time visiting the country, this will be first time I'm holding a concert here and I'm so happy. I'm excited to be back in his beautiful country to hold a concert and I'm happy to be spending my last night in Sydney with you all. I'm so happy to be sharing such moments of laughter with you. The atmosphere here alone is enough to get me pumped up. I will definitely return, either as a solo singer, or as a member of JYJ."
Kim Junsu's Australian fans dressed up for his concert, and danced and sang along to the music, even occasionally shedding a tear or two.
Kim Junsu continued to say, "Seeing foreigners crying while listening to a Korean ballad has touched me deeply as its shown me that though we speak different languages, we are able to connect through music."
Karen (24, Female) said, "XIA Junsu is finally here. I've waited for so long for this moment. I'm so grateful that he's here. My only wish in life now is for JYJ to come to Australia together," while Stephanie (19, Female) stated, "It was great to see XIA Junsu on stage, in real life. I was in the mosh pit area and I was sweating it out as I jumped along with him. It feels like all my stress has been relieved." Samantha (27, Female) stated, "He started off with 'Tarantallegra' and in the blink of an eye, we were at the last song 'Incredible'. It's unbelievable how fast time flew by! Our time spent with Junsu felt like a festival. I'll never forget this moment."
Since releasing his second solo album, Kim Junsu has performed in Bangkok (Thailand), Shanghai (China), Seoul and Busan. Wrapping up his Australian concert, Kim Junsu will begin preparing for his Japanese tour that will take him to Nagoya (October 8th~10th) and Yokohama (October 14th~16th).
Source: [TV Daily]
Translated & Shared by: dongbangdata.net
JYJ Fantalk Source: dongbangdata.net
Share This