Group JYJ created a special encore stage with Vietnamese fans in heavy rain.
On August 31, C-JeS Entertainment disclosed, "JYJ successfully completed the Vietnam concert of their Asia Tour in the midst of 6000 Vietnamese fans' cheers at Quân khu 7 Stadium in Ho Chi Minh City, Vietnam on August 30," and, "In particular at this concert held in an outdoor venue, singer and fan becoming as one created a splendid sight, even amid pouring heavy rain on the encore stage".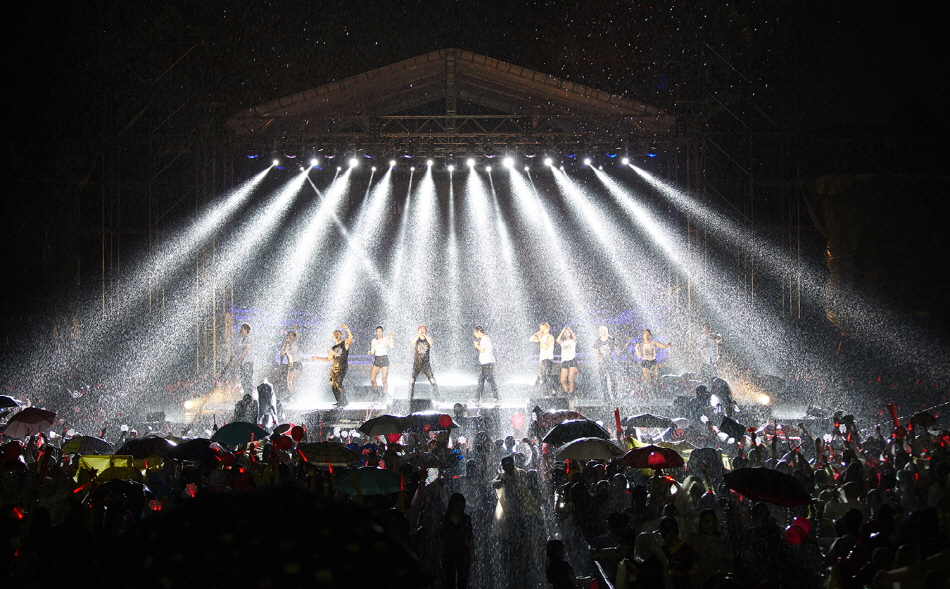 JYJ is famous as the team gaining highest popularity among Hallyu stars in Vietnam.
On this day fans, who gathered from across the nation, sang along to songs in Korean and enjoyed JYJ's concert.
One fan saw JYJ who she's looking upon again in 4 years, and choked back tears.
On this day, JYJ opened with live stages for all of 24 songs; like title song 'Back Seat' and their 1st regular album's title songs 'In Heaven' and 'Get Out'. As a talented band they also showed off a variety of colorful stages –such pop, rock, dance, R&B– within their own solo performances in a group-like way and captured local fans' hearts.
The encore stage became an unforgettable memory for everyone, singer and fan.
Although everyone got drenched in the rain, they enjoyed the concert. JYJ said, "The rain came but we got more excited. It became a sexy stage because of the rain" and "It seems we'll never forget the time we spent with Vietnamese fans".
Passing through Seoul, Hong Kong, Beijing, and Vietnam, JYJ's Asia Tour will continue onto Chengdu, China on September 6.
Source: Sports Khan
Translated by: rilanna of JYJ3
Shared by: JYJ3
JYJ Fantalk Source: JYJ3
Share This